Centre of Bordeaux, a return to reason ?
After witnessing an unprecedented rise in prices in 2017, Bordeaux's property market is gradually settling back down to its cruising speed. Still very appealing, the town centre is seen as an elitist market, typical of large historic cities, lively at both commercial and cultural level.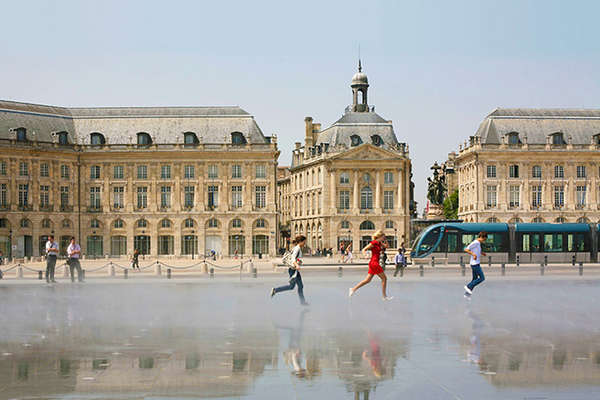 Playing host to Line B of the tramway, the Place de la Comédie is one of the most prestigious addresses in the centre of Bordeaux.
"Working in the Bordeaux area, Le Bouscat and the surrounding region for many years, I have seen remarkable evolution in the market due to demand for old properties, entire buildings, stone "échoppes", apartments and houses, as well as properties to renovate or split up," says Julie Taurelle of Activ Immobilier, a go-ahead agency specializing in sales and rentals/management in the metropolis of Bordeaux, and offering its clients personalized advice and tailormade follow-up. "Sought-after by a diverse and affluent clientele, properties "at the right price" currently sell within 15 days to one month." With the city of Bordeaux undergoing extensive development, especially with the LGV line linking it to Paris in just two hours, prices have soared and demand soon outstripped supply. "No secteur has been spared by this strong momentum in the town centre, and we are still receiving enquiries for all kinds of properties, especially year-round homes and rental investments."
Based in the Croix Blanche area since 2016 and also offering its clients customized assistance, Poulin Immobilier covers both living accommodation and commercial premises. "Following unprecedented demand, we have noticed lower prices for certain properties over the past two months," says the agency's founder, Edouard Poulin. "We are seeing a relative decline in the number of ads consulted, and transactions are no longer completed in all urgency." This can be explained in particular to more stringent conditions for short-term rentals between private individuals. A reform which seems to be having two immediate results : fewer rental investments, and a substantial number of apartments returning to the classic rental market. "Nowadays, some tenants do not hesitate to negotiate the rents being charged. For investors, this is important in terms of profitability," comments Edouard Poulin, whose portfolio of properties for sale in the centre of Bordeaux is now getting thicker. "Stocks have been replenished, and the majority of the sales we handle involve permanent homes. Most of the finest properties up for sale hover around 5,500 € per sq.m : only truly outstanding examples can allow themselves to surge up to 10,000 € per sq.m." Still implementing its embellishment programme and improvement of its transport facilities, Bordeaux is pursuing several work sites simultaneously. "Which also gives rise to a wait-and-see response on the part of many buyers who are not seeking homes urgently. They take their time to find out about any current or up-coming nuisances caused by these undertakings. It is not rare that owners hoping to benefit from a substantial profit from the sale of their main home find themselves renting when the sale goes through, while looking for a new acquisition."
You will also like