Caudéran, a town within the town
An old commune in the Gironde which became a fashionable neighbourhood of Bordeaux in 1965, Caudéran, known as the "Neuilly of Bordeaux", lies to the west of the city, on the other side of the boulevards. With almost 45,000 residents, Caudéran is the largest and most densely populated neighbourhood in the city.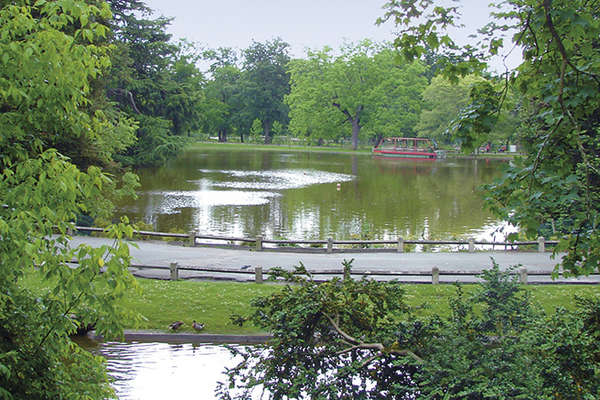 With its little woods, ponds, pathways, lawns, shrubberies, zoo and attractions (go-karts, merry-go-rounds, little train...), the Parc Bordelais is a breath of fresh air at the heart of Caudéran.
Fifty-two years after it became part of Bordeaux, Caudéran has lost none of its identity, despite wide-ranging transformations and modernization in terms of both urban planning and landscaping. A melting-pot of "échoppes", "chartreuses", cosy suburban homes, blocks of apartments of varying quality, and superb testimonials to Art Nouveau and Art Deco, Caudéran offers a remarkably wide variety of properties. Comprised of six small neighbourhoods, it is laid out like a town within the town, with many neighbourhood shops, several schools, sports facilities and administrative centres... Covering an area of almost 70 acres, its green spaces are the largest in Bordeaux, and its golf-course, the Golf Bordelais, is one of the five oldest in France.
Particularly prized for its quality living conditions and schools with good reputations, Caudéran is sought after by many local families. Since the inauguration last July of the new LGV line placing the capital just two hours from Bordeaux, many Parisian buyers have lengthened the list of people wanting to make this address their main home. "Its popularity is unprecedented," says Hamid Abkar, a professional on Bordeaux's property market for the past 25 years, and manager of the HA Immobiliers agency since 2008. "The market is becoming really squeezed. The stock of available properties is increasingly limited and we are confronted by a substantial influx of buyers." The impact on prices ? "They have risen very quickly and today some transactions go through at levels corresponding to no real market logic at all. It's the same for all the flagship neighbourhoods in the city. In Caudéran, closeness to schools with excellent reputations is one of the most frequent criteria," adds this estate-agent, whose clientele has become mostly Parisian within the space of just a few months.
After a career of several years in real estate, Arnaud Droulers founded an independent agency in 2008, handling transactions for all types of properties all over Bordeaux, and more especially in the Caudéran neighbourhood, which is home to his agency. "Since the beginning of 2017, the gap between supply and demand has become more and more pronounced. We can definitely talk about a shortage of availabilities," says this professional whose portfolio is comprised of properties of character, built in the 1960's but also contemporary, mostly priced from 500,000 to 1 million euros. "Just a few months ago, a budget of 500,000 € enabled clients to set their sights on a house of 120 to 130 m2. Today, this budget will bring a home of about 100 m2 at most. A year ago, the average price in this neighbourhood was around 4,000 € per sq. metre. It is now around 5,000 €, or well beyond for properties offering a full range of attributes : a good location, a swimming pool, garage, impeccable
condition..."
You will also like