Carpentras and its surrounding area : renewed interest
Known for its pleasant lifestyle and gastronomy, the region around Carpentras benefits from cultural liveliness that draws a clientele of esthetes from France, Switzerland and Belgium.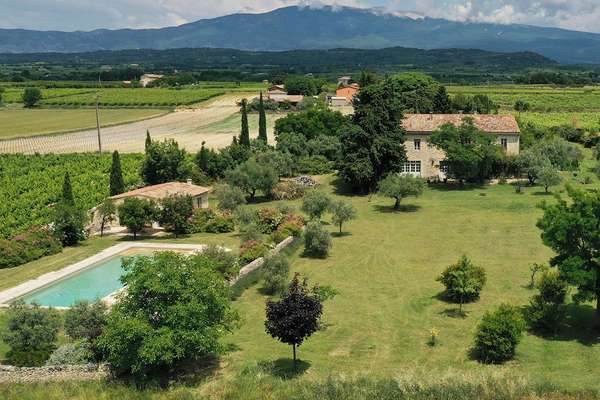 Comprised of a 5-bedroomed residence and a "gîte" for paying guests, this fully restored stone property of 450 m2 is set in the countryside in Mazan, at the foot of Mount Ventoux. 1 M €. G. Immobilier de Prestige (06 61 11 30 58).
Focusing on sales, rentals and rental management in the Vaucluse, Le Comtat Venaissin, Mount-Ventoux, Le Pays des Sorgues and the Luberon, the Côté Sud Provence agency was founded in 1976, in Saint-Didier, by Christiane Auquier. "In our region, buyers are mostly seeking a villa or a " mas" with a pool, or else a village house with a garden. Depending on appointments, prices range from 300,000 to 700,000 €. We cover almost exclusively the villages of Pernes-les-Fontaines, Saint-Didier, Mazan, La Roque d'Anthéron and, to a lesser extent, Carpentras." Christiane Auquier has noted that, thanks to tele-working, a growing number of Parisian buyers now share their time between the capital and the region, taking advantage of their second residence most of the year. The local setting is naturally a sound value for the market for second homes : recognized for its pleasant lifestyle and gastronomy, the region offers top-notch living conditions amidst delightful scenery. "The Covid crisis has not led to a decline in sales volume, nor to higher prices. Clients, both French and foreign, have completed their projects here, especially as the market has remained balanced between supply and demand. The rental market is also showing remarkable dynamism, due in particular to people working locally who give precedence to villages close to Avignon."
Founded in 2008 by Jean-Marc and Stéphanie Goubert, the G. Immobilier de Prestige agency based in Mazan handles sales and seasonal rentals in Carpentras and the surrounding area. "We are the only agency in the region specialising in the sale of properties of charm, prestige and character. Over the past two years, Carpentras has met with remarkable enthusiasm. We sold three private mansions - between 800,000 and 1 M € -, and a penthouse priced at 600,000 € which found a taker in just two weeks." Mainly French and Swiss, clients appreciate the cultural development pursued by Carpentras, and its proximity to the TGV station linking Avignon to Paris in under three hours. "The historic centre of the town is highly sought-after. Since the Covid crisis, clients from Paris and Belgium have come up with more comfortable budgets, which have risen on average from 800,000 to 1.5 million euros. In this price bracket, properties which sell the fastest offer beautiful views of the Dentelles de Montmirail or Mount Ventoux, at least 2.5 acres of land, 5 to 8 bedrooms, and require very little refurbishment." Our specialist has also noted that the dynamism of Carpentras is attracting a growing number of owners wanting to leave the Luberon, seen as too quiet in the off-season. "Working from home enables buyers from large cities, especially Paris, to benefit from a second home all year round. Investors are also abandoning financial markets in favour of bricks and mortar, with a preference for old properties. From this standpoint, modern houses are rarely considered, unless they offer fabulous views." While demand still outstrips supply, Stéphanie Goubert makes it a point of honour to find her clients a property meeting their requirements.
You will also like