Capbreton, between sea and countryside
Appreciated for its friendly family atmosphere, this old fishing harbour opposite Hossegor is well worth considering just as much for a holiday residence as for a pleasant permanent home !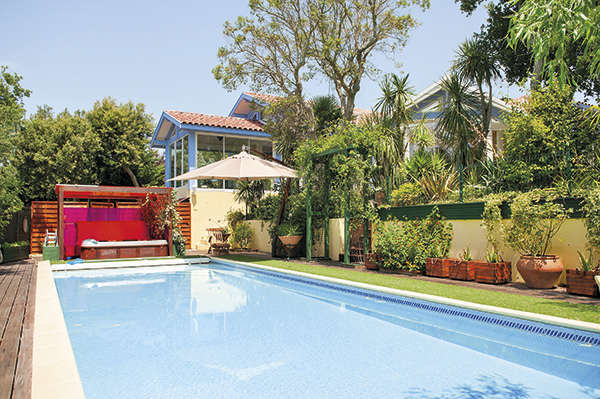 Set in mature grounds of over 2,600m2, this architect-designed villa of 200 m2 benefits from a heated pool, jacuzzi and large timber sundecks. 682.000 €. Maisons du Sud Ouest (05 58 49 86 86).
A well-known seaside resort in the Landes, Capbreton and its sailing harbour with over 1,000 berths, its famous breakwater and eight sandy beaches, is a flagship destination for tourists on the Landes coast and a very popular surfing centre. This commune with about 8,000 residents is firmly set on a casual life-style focusing on the sea and countryside.
Last May, Alexandre Baylocq opened the Maisons du Sud Ouest agency here. "The local market is very diverse. We just as easily propose studios here at 80,000 € as properties worth several million euros. On today's market, buyers clearly have the upper hand. They are the ones who determine the prices, especially as some estimates are rigged by owners trying to keep prices well above the current trend which is, in fact, on the downside for virtually all kinds of homes," explains our specialist. "On average, we see offers up to 15% lower than the prices posted, and bargaining even occurs for new properties proposed at around 4,800 € per sq. metre in the centre. Demand remains steady : we have noticed more and more families moving to Capbreton. The father often leaves for Paris from Biarritz Airport (40 minutes away) on Monday morning, and comes home on Friday night." Budgets vary depending on the type of property required, their appointments and neighbourhood. Front-row properties facing the ocean range from 7,000 to 9,000 € per sqm, those in the centre from 4,000 to 4,500 €/m2. In the Bouhebe neighbourhood, half-timbered single-storey homes built of brick and timber are popular as holiday homes costing around 400,000 €, while in Les Vignes 1950's villas are available from 300,000 to 400,000 €. "For holiday homes, clients naturally target areas near the beaches and Golden Triangle. But overall, the centre draws the greatest interest."
According to Daniel Vidoudez of DV Immobilier : "Demand is there, but supply is beginning to dry up". The market is thus partly blocked, especially for houses. "Many potential buyers are looking at villas up for sale at 500,000-530,000 € with budgets limited to 400,000-450,000 €." Less affected, the segment for new developments has adjusted its prices and apartments readily find takers, especially as today's clients are wary about energy performance regulations. Among his recent sales, Daniel Vidoudez mentions a 2-bedroomed apartment of 55 m2 in a new residence near the town centre, priced at 230,000 €. An identical property close to the beaches with a garage and cellar was snapped up for 280,000 €, a good location still being one of the main search criteria for both private buyers looking for high-end holiday homes and the few rental investors here. In the case of resales, prices suffer more from the general decline. A 1-bedroomed apartment of 40 m2 in a residence built 10 years ago, offering high-end appointments, just found a new owner at 210,000 €. As for properties at the lowest end of the scale in more outdated buildings or those further out, they are of interest to younger clients, especially fans of surfing looking for a pied-à-terre where they can come and enjoy the sport as often as they like. Top-notch properties, particularly villas designed by architects in the 700,000-800,000 € bracket, suit the taste of a few well-off urban citizens in search of a good address offering elegance and all modern comforts.
You will also like