Cannes, the eternal star of the Côte d'Azur
International Film Festival, International Yachting Festival, MIPIM, MIDEM... Prestigious events which have all played their part for many years in building the renown of Cannes. A town which constantly strives to enhance its good looks and maintain its sound reputation, with a go-ahead mayor at the helm.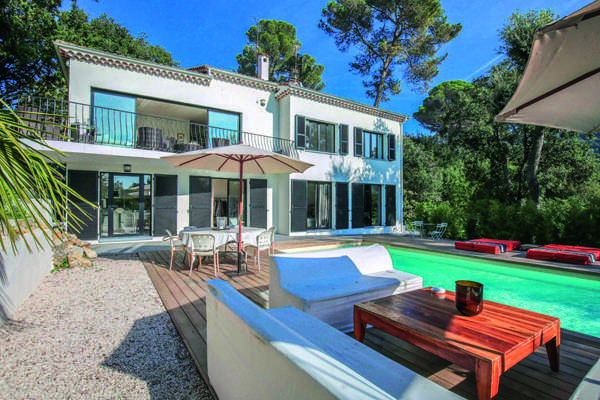 In the Isola Bella neighbourhood, this pretty villa of 225 m2 on two floors is on a very quiet private estate, a few minutes' walk to the centre of Cannes. Its large south-facing terrace offers a superb pool area. 1.590.000 €. Blue Square (04 22 32 60 40).
Jean-Marc Ganzer, manager of the AJC agency based in Cannes since 2005, has compiled a portfolio of properties of different kinds to meet all types of budgets. As he sees it : "The role of the estate-agent is to convey a true reflection of the market and and carry sales through right to the end". Since the beginning of the year, sales have posted an up-turn, as prices have seen a slight decline. "Demand is still strong, and supply diminishes proportionately. The market is really buoyant." Jean-Marc Ganzer describes the main neighbourhoods, from the most to the least expensive. "La Banane" consists of the area near the seafront and Palais des Congrès : its beaches and proximity to the town centre are enormous assets. Here, the price per sq. metre is 10,000 € on average. At the other end of the Croisette, around Palm Beach, foreign clients aim for properties enabling them to benefit from a quieter seafront, with prices from 7,000 to 8,000 € per sq.m for apartments without a sea view. Near the town centre and the sea, La Basse Californie offers an excellent compromise. A very leafy neighbourhood in Cannes with good amenities, its prices range from 4,000 to 10,000 € per sq.m depending on the apartment itself and the classiness, medium or high, of its residence. Finally, Jean-Marc Ganzer mentions other neighbourhoods, more affordable yet in less demand : Le Petit-Juas, on the left side of Boulevard Carnot, quiet and leafy, with average prices around 3,800 € per sq.m, Carnot at around 3,000 € per sq.m, and République, more cosmopolitan, posting average prices of about 2,500 € per sq.m.
At Croisette Properties, David Parent focuses more on the middle to upper, and also very high, end of the market. 60% of the agency's clientele is comprised of foreign buyers : Russian, Scandinavian, English and Swiss. 70 % of them are looking for holiday homes. "The market has turned out to be very active over the past seven months, whereas this time of the year is usually rather quiet." Covering the neighbourhoods of the Croisette, the town centre, La Basse Californie, La Californie and La Croix-des-Gardes, he explains that the hyper-centre is seen as one of the market's soundest investments, and that 2-bedroomed apartments are in the highest demand. Depending on their location and appointments, they cost from 6,000 to 10,000 € per sq.m. On the other hand, penthouses in the centre can fetch up to 20,000 € per sq.m. At the far end of the Croisette, they will be priced from 15,000 to 25,000 € per sq.m, and from 20,000 to 35,000 € if they are in the central part of the Croisette, ie. between the Majestic and Martinez Hotels. Croisette Properties recently handled the sale of a fully renovated penthouse of 105 m2 in the town centre, with four main rooms, priced at 1,680,000 €. On the Croisette, Russian buyers acquired a penthouse of 145 m2, also renovated, for 6,200,000 €. As for houses, prices naturally vary depending on their size and condition : villas near the centre under 2 million euros are highly sought-after. Those on the hills offering lovely sea views start from 2.6 million euros.
Bruno Hubert of the Blue Square agency confirms the liveliness of the market in Cannes, adding, however, a specific feature : "It is a market that has remained highly selective". In fact, apartments proposed at the right price sell rapidly, while those over-estimated or with major defects struggle to find takers. Here again, it falls to estate-agents to work hand-in-hand with sellers to convince them to evaluate their properties objectively. Blue Square makes a point of this. Like his fellow agents, Bruno Hubert mentions the predominant areas of La Californie, the Croisette, Le Suquet, La Banane and Palm Beach, not forgetting Isola Bella. Which is seen rather as a residential area, posting more affordable prices. The price per sq. metre here is around 7,000 €. Private estates are always popular, appealing to fans of quietness and security. Over the years, Cannes has maintained an excellent reputation among its clientele. It is an address particularly highly-prized among those wanting to retire to the Côte d'Azur, and also by foreigners in search of a top-
notch holiday home.
You will also like