Cannes Californie : a balcony above the Mediterranean
Occupying the southern part of the hill of Super Cannes, the Californie neighbourhood lies east of the Festival City. Dotted with prestigious residences and luxury villas, this delightfully leafy address is an idyllic balcony surveying the Mediterranean.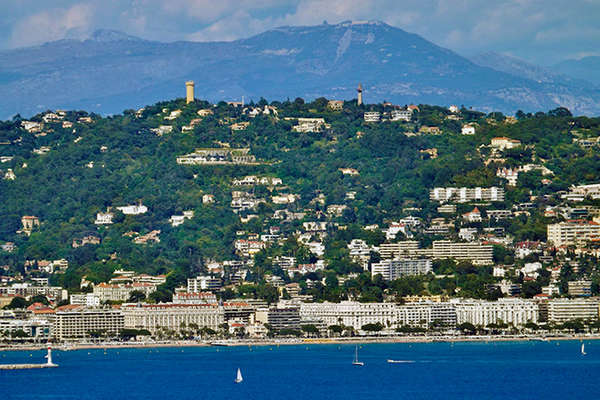 Highly-prized by wealthy buyers from all over the world, the Californie neighbourhood offers prestigous villas and luxury gated residences dotted around the leafy Avenue du Roi Albert.
Based in the Californie area for the past 10 years, Master Conseil Immobilier specializes in the market for prestige properties, the large majority offering magnificent sea views and on the top floors of smart residences in Cannes and its surrounding area. "We focus closely on our clients' requirements in order to offer them a personalized selection," says the agency's manager, Jean-Claude Chermont. "Mainly French and European, our clients benefit from purchasing power ranging from 800,000 to 3 million euros for acquisitions paid for in cash. They are currently mostly looking for 2- or 3-bedroomed apartments from 100 to 150 m² extended by deep terraces with views of the sea, and ideally located in luxury residences." By way of example, Jean-Claude Chermont mentions a 2-bedroomed apartment of 118 m2 with a terrace of 20 m2 enjoying a panoramic view, on the top floor of a residence on Avenue du Roi Albert, up for sale at 1,370,000 €. And, recently sold, another top-floor apartment offering living space of 144 m2 with 4 main rooms, a terrace of 50 m2 and a breathtaking sea view. "At the moment, we are seeing a two-tier market. Properties priced from 800,000 to 1.3 million euros are numerous, but the clientele is very demanding. Those on offer from 1.3 to 3 million euros are also in high demand, though they do not always reflect market prices." Over the past three years, Jean-Claude Chermont can attest to stable prices in this sector. But given the number of identical properties for sale in the area, prices tend to be subject to negotiation of about 10%.
After launching her agency, Cannes Rossi Croisette, last July on the Croisette, Brigitte Rossi has presented a selection of high-end and prestige properties in the finest neighbourhoods in Cannes : the Croisette, Super Cannes, Lower Californie and La Californie. "Views of the sea, quietness and security are the main assets offered by La Californie. For both permanent and holiday homes, our French and international clients are particularly keen on top-floor apartments in high-class residences with pools, gardens and 24-hour security." Among sales recently handled by the agency and reflecting today's market, Brigitte Rossi mentions a sumptuous 2-bedroomed apartment of 104 m2 in a highly-prized gated residence, in the midst of a large park with lush vegetation, two pools, tennis courts and relaxation areas. Characterized by generous volumes including a living-room of 57 m2 with an open-plan kitchen, opening out to a terrace of 18 m2 with a view of the sea and Lérins Islands, this apartment has just found a taker at around 950,000 €. "Despite an asking price which was reasonable for this neighbourhood, this property attracted lots of visits but took several months to sell. Clients have a wide choice and thus prefer to take their time, making as many visits as possible and comparing before taking the plunge."
You will also like