Cannes, a priceless market
Searching for prices per sq.m in Cannes ? Mission impossible : from a practical 1-bedroom apartment in the neighbourhood of La Bocca to a prestigious, top-floor apartment on the Croisette, prices per sq.m can much more than double.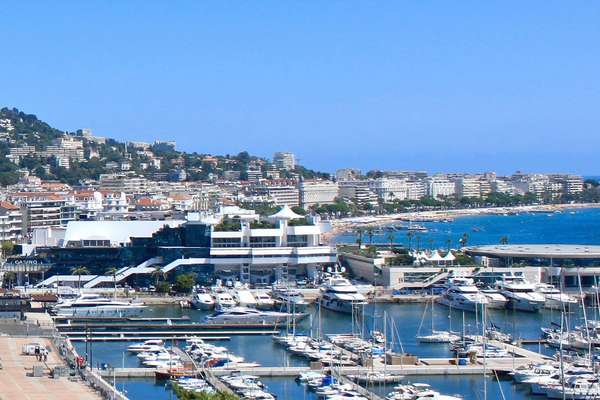 A real cultural and economic driving force for Cannes, the Palais des Festivals et des Congrès, on the seafront, finds itself under international spotlights all year round.
Since opening her agency, Cannes Rossi Croisette, on the legendary boulevard, Brigitte Rossi has presented a selection of classy and prestigious properties in the best neighbourhoods in Cannes : the Croisette, Super Cannes, Lower Californie and La Californie. "Even at year-end, buyers with substantial budgets are still present and currently have some choice in the high-end sector. Transactions often go through when prices are tweaked, as sellers always tend to overprice their properties. When they realise that the phone has stopped ringing, they listen to reason and accept our estimates." In these prized addresses in Cannes, properties offering all the criteria sought by this demanding clientele find their place in the agency's portfolio, as, for example, a superb 2-bedroomed apartment of 96 m2, luxuriously renovated, fitted and furnished. Prolonged by a terrace of 16 m2 enjoying a clear view of the sea, this property in one of the finest residences on the Croisette with 24/7 concierge, garage and cellar, is on offer at 4,240,000 €. "These prestigious addresses are mainly destined to become the second residences of French, Scandinavian or Russian clients," says Brigitte Rossi. "In Cannes itself, we mainly offer apartments, guiding buyers in search of villas to Mougins, where we also present high-quality homes."
Based for over 20 years in the neighbourhood of La Bocca in Cannes, Century 21 Immobilier Conseil, specializing in sales and rentals, is well-known for its professionalism and in-depth knowledge of its market, explained by the long experience of its teams ; most of them have been working for the agency for several years. Together with their seven sales consultants, managers Jean-Marc Mallavan and Julien Roche orchestrate many transactions involving properties as diverse as their clients. "Our portfolio is made up of practical apartments in the centre and northern part of La Bocca, high-end properties in La Croix des Gardes and on the Boulevard du Midi facing the sea, as well as a few houses in the village of La Roquette-sur-Siagne, next to La Bocca," explains Julien Roche. This wide array of properties caters for lots of different clients : the locally employed, first-time buyers, French retirees, rental investors, foreign buyers looking for pleasant holiday homes... "An attractive flat area near the sea, benefiting from all the amenities required for enjoyable everyday living, Cannes La Bocca attracts in particular a lot of seniors in search of a functional apartment in a good location. Furthermore, a budget here from 250,000 to 350,000 € allows them to envisage a quality 2-bedroomed apartment, while a vast studio or 1-bedroomed apartment can be found from 150,000 €." Prices are inevitably much lower than those posted in the "banane", ie. the centre of Cannes. "Prestigious neighbourhoods are sought after by a clientele whose financial means enable them to target properties with rare appointments, like a fully renovated penthouse of 150 extended by a terrace of 135 m2. Benefiting from a garage, it is priced at 1,265,000 €." What about price trends ? "They are tending towards stability. Though the rarity of certain locations or appointments guide the prices of the properties concerned, especially as availabilities, while satisfactory, have become much scarcer. At the end of 2017, we had 115 mandates to act for sellers. At the end of 2019, we have 62."
You will also like