Bourg-en-Bresse, a market benefiting from lots of changes
A new multi-modal station, a sports and culture complex called "Ekinox" flaunting futuristic architecture, a contract worth 200 million euros signed in September for the site of ArcelorMittal... Fresh impetus is on the cards for Bourg-en-Bresse.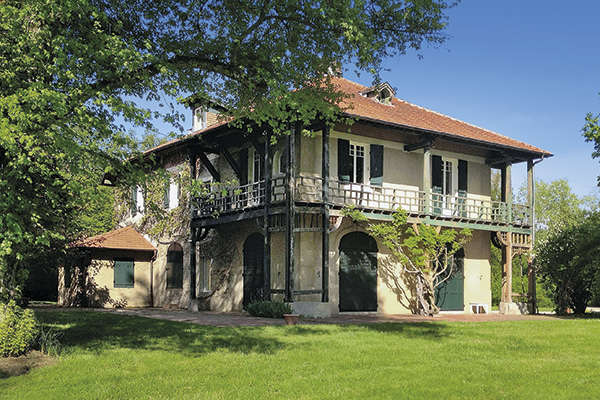 At the gateway to the town, this estate occupies almost 69.2 acres of land. 980.000 €. Citya-Pays de l'Ain (04 74 22 95 68)
66 km from Lyon, Bourg-en-Bresse is particularly well-known for its church monuments and its gastronomy : chefs Georges Blanc and Jacques Pépin both hail from here. The largest town in the département of L'Ain, Bourg-en-Bresse hosts the prefecture, law courts and a university campus. Surrounded by villages, it has 42,346 inhabitants.
With renovated farms, a few old mills and many houses built of stone, properties on the outskirts of Bourg-en-Bresse are not lacking in charm. Specializing in the market for detached homes, the Revermont Immobilier agency has observed a slowdown in its sales since the start of the second half of this year. "Potential buyers are postponing their decisions and sellers refuse to lower their demands. This situation is due to the overall economic climate," says Ophélie Fargeot, manageress of this agency based for the past nine years in Ceyzeriat, 8 km from Bourg-en-Bresse. Even so, some properties are really exceptional. For example, one authentic bourgeois prop­erty of 500 m2 in an enclosed park of 2,000 m2 at the heart of the village of Ceyzeriat, on offer at 350,000 €, is struggling to find a taker despite its undeniable assets and reasonable price. The top end of the market is also sluggish : it is becoming hard to find serious clients for properties over 1 million euros. On the other hand, land is in demand : many families are looking for building plots - which can be found on the communes of Ceyzériat, Montagnat, Tossiat and Revonnas.
In the centre of Bourg-en-Bresse, apartments form the core of the market. "We see high demand for 1- and 2-bedroomed apartments priced from 150,000 to 180,000 €. Unfortunately, offers at these prices are rare," says Emmanuel Drouelle, President and Manager of the Citya-Pays de l'Ain agency, based for over 30 years in Bourg-en-Bresse. Despite the tense economic context, urban accommodation is holding steady. "The most active and well-balanced bracket is that of properties priced from 200,000 to 250,000 €." On average, one can expect to pay from 2,600 to 3,000 € per sq. metre for new apartments in town, 1,700 to 2,200 € for older ones of good quality with refined appointments and noble materials, and from 1,000 to 1,200 € in residences built from the 'fifties to 'seventies. Known for their high energy consumption, the latter nevertheless benefit from a real desire on the part of owners to conform to the new thermal regulations and the Grenelle Law. They thus carry out the necessary work, assisted and co-financed by the State. Finally, lacking in amenities but proposing enormous stylishness, apartments of character in Haussmann style are available from 1,400 to 1,600 € per sq. metre on average. The property market in Bourg-en-Bresse is indeed highly diverse. At a time when the département looks really promising, it would seem very wise to invest here as soon as possible.
You will also like