Bordeaux's "Golden Triangle", a prestigious address
The most expensive historic neighbourhood of the capital of the Gironde owes its name to its triangular shape whose high points consist of the Grand Théâtre, Place Gambetta and Place Tourny.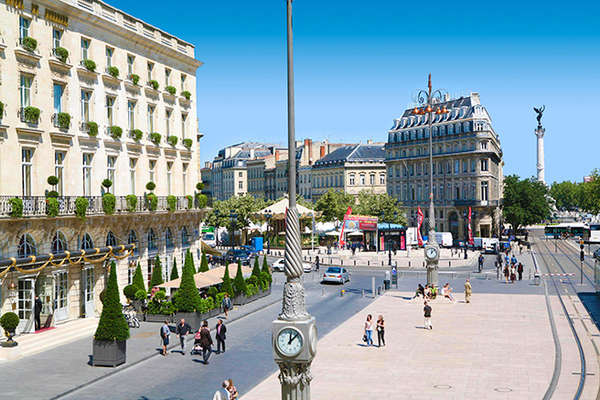 Restructured in 2006 to make way for Line B of the tramway, the Place de la Comédie is a prestigious address in Bordeaux's Golden Triangle.
With expertise in residences of character, luxurious and prestigious properties, the historic Agence Lafaye founded in 1930 specializes in sales, rentals and property management. "The market in Bordeaux is doing very well," says manager Bruno Lafaye. "We benefit from an excellent image, and the recent arrival of the TGV placing the city just two hours from Paris has brought along a new clientele with substantial financial means. Mostly retired Parisians, our clients come to benefit from Bordeaux, setting their sights on lovely apartments ideally located in the Golden Triangle." Highly sought-after, bourgeois apartments find favour with these demanding clients, fond of noble (first) floors, or top floors renovated in loft style, if they are in buildings benefiting from lifts. "The most frequent enquiries concern apartments from 100 to 150 m2 with 2 bedrooms and a large reception room, requiring budgets from 1 to 1.5 million euros. On average, desirable addresses we present range from 8,000 to 10,000 € per sq. metre, depending on their features," explains our expert, adding that properties of over 200 m2 are in less demand. As examples of typical properties currently in his portfolio, Bruno Lafaye mentions an apartment of 76 m2 near Place Tourny. Offering 2 bedrooms and a vast lounge, this property benefiting from recent renovation throughout is up for sale at 636,000 €. Near Place Gambetta, a love-nest of 32 m2 prolonged by a very sunny terrace of 13 m2 and offering undeniable charm is on offer at 300,000 €. More traditional, in the Cathedral neighbourhood on the periphery of the Golden Triangle, a family apartment of 180 m2 is priced at 1.1M €.
Specializing in prestige properties, the Agence Jane proposes villas on the seafront in Cap Ferret and Pyla for sale or rent, large properties in the countryside, private mansions in Bordeaux... "We place a conciergerie service at our clients' disposal together with a rental service for special events and shooting locations," says manager Guillaume Touroul-Chevalerie. "We can thus propose an exceptional catalogue for each client wanting to rent an extraordinary place for a wedding, seminar or even for shooting an advertising film. Strong points in our neighbourhood consist of several features : the heart of town and its architecture, proximity to shops, easy access, liveliness, a quality lifestyle, tourist appeal and cultural diversity." The agency's clientele is comprised of local, foreign and French buyers from other regions, especially from Paris. "They are company directors, rental investors, young retirees, senior executives and even companies. A clientele in search of exceptional properties, mainly looking for 2- or 3-bedroomed apartments, preferably with an outdoor area, and ideally located in the hyper-centre." Buyers nevertheless come up against slim offerings and prices that are on the rise. The most recent sales handled by the Agence Jane attained 10,000 € per sq. metre.
You will also like