Bordeaux : return to grace
Benefiting from architectural heritage listed by UNESCO, Bordeaux presents a property scene of equal nobility. The exclusive hyper-centre confirms its appeal, while the near periphery draws families in search of a green environment.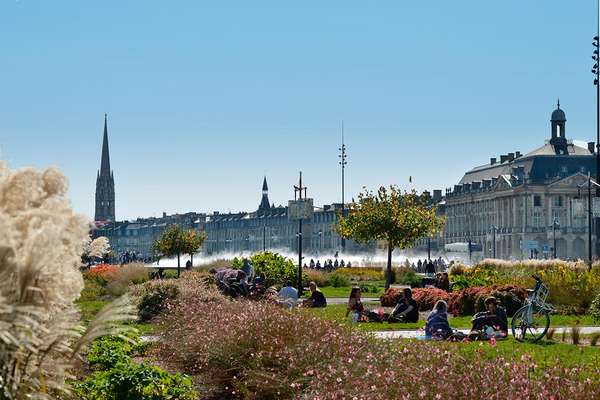 The Gironde and Bordeaux are witnessing soaring population figures with over 15,000 new residents each year.
A member of a network of 50 agencies in France, the Espaces Atypiques agency run by Clément Kaufmann in Bordeaux specializes in sales and rentals of properties of character : unusual houses, lofts, villas designed by architects... "Our teams cover the entire "département" of the Gironde. Buyers calling on our expertise are looking for exclusiveness. Old commercial premises converted into living accommodation are thus highly prized, together with "échoppes" revamped by an architect, or large apartments benefiting from roof-terraces and panoramic views of the city of Bordeaux." Since the start of the Covid-19 crisis, Clément Kaufmann has seen evolution in search criteria : a terrace is now an essential minimum. "Previously focusing on Bordeaux intra-muros and neighbourhoods such as Les Chartrons, where we are based and which is still a sound value, demand now also includes the outskirts of the town." Communes 20 minutes from the centre, such as Quinsac, Latresne, Saint-Médard-en-Jalles, and the start of Le Médoc, are thus the subjects of constant demand. "The high demand that followed the first lockdown has calmed down but remains steady. It is still too early to measure the impact on prices, especially as the market lost its dynamism throughout 2018 and 2019, following a significant rise in 2017. With prices remaining stable prior to the lockdowns, buyers from large cities are now back in Bordeaux and to its near periphery. And they are visibly determined to become owners of a property reflecting their personal taste."
The agency J'Habite en Ville-Khépri handles sales, rentals, property management and trusteeship, with a predilection for the centre of Bordeaux. "We mainly cover the most highly-prized neighbourhoods such as Pey-Berland, Saint-Christoly, Saint-Pierre and Saint-Paul." The agency's property consultant, Emmanuel Coustaud, notes that, since the month of May, homehunts have been equally balanced between houses and apartments. "We recently sold a 1-bedroom apartment of 64 m2 in the Saint-Pierre neighbourhood priced at 346,000 € in just one visit, and a house in Saint-Michel priced at 646,000 €. When buyers give priority to a location in the hyper-centre, they are already aware that outdoor areas are rare. Even so, demand for these apartments in good locations - even without a terrace - remains steady." Average budgets range from 400,000 to 600,000 €. Emmanuel Coustaud has noticed a slight rise in prices since the end of the first lockdown, together with a rise in sales volume. "In the context of today, a sizeable increase in prices may prove to be justified, up to a certain level. Over and beyond 600,000 €, for example, an apartment will have to present amenities such as a lift or terrace to benefit from a higher estimate."
Under the management of Vanessa Condom-Garibaldi, Ateliers Lofts & Associés Bordeaux devotes itself to sales and rentals of unusual properties with a focus on the city of Bordeaux and its near periphery. The agency will be celebrating its 15th anniversary in March 2021. "We present properties with small surface areas that have been renovated by interior architects, but also attics suitable for conversion, and fully restored private mansions. We thus recently sold a property of 55 m2 with a terrace in the Saint-Michel neighbourhood, priced at 330,000 €, and a loft priced at 1.5 million euros in Les Chartrons. Demand is proving to be very steady, for whatever type of property. However, it is rare to find properties under 250,000 €. Up to 350,000 €, those available are mostly outside Bordeaux, on communes offering a natural environment and very large grounds. Intra-muros, the area stretching from Les Chartrons to Saint-Seurin comprises the core of current demand. Le Bouscat, near the Barrière du Médoc, is also a sound value thanks to its many shops, the arrival of the new tramway, and its closeness to the Parc Bordelais", says Vanessa Condom-Garibaldi. Since the first confinement, she has seen a regular inflow of quality properties offered for sale, ensuring a balance between supply and demand. "Previously capped at around 5,000 € per sqm, prices can now attain 8,000 € per sqm in the hyper-centre." The Groupe Ateliers Lofts & Associés has two more entities dedicated to outstanding properties : Architecture de Collection is the first estate agency specializing exclusively in the sale of remarkable 20th and 21st century architecture while, since 2006, the activity of ELUX has involved placing extraordinary properties at the disposal of professionals for photo and film shoots, or special events.
You will also like