Bordeaux, opting for quality
After years of soaring prices, Bordeaux's property market is settling down. Bringing more coherent prices and, above all, a more extensive stock of available properties offering appreciable quality. Update with two experts on the top end of the market...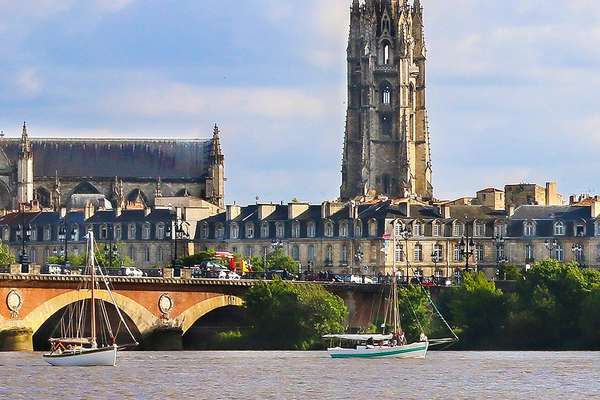 Built around the Gothic-style basilica, Saint-Michel is one of the liveliest neighbourhoods in Bordeaux.
A real reference for properties in Bordeaux, Grange-Delmas Immobilier was founded in 1963. Run by the same family since its creation, this agency benefiting from a faultless reputation has developed unequalled expertise on neighbourhoods on both sides of the boulevards : Croix Blanche, Jardin Public, Chartrons, Caudéran, Le Bouscat, Pessac... Fine addresses symbolizing Bordeaux in all its diversity. "We have acquired in-depth knowledge of our area and, thanks to our reputation and long experience, many clients trust us to handle the sale of their properties. We can thus present new high-quality addresses on a regular basis : stone residences, "échoppes", private mansions, charming apartments, houses designed by architects, but also houses and apartments in need of renovation... many of which are proposed on an exclusive mandate," says Isabel Grange, who works very closely with her cousins. After the exceptional surge in activity and prices in 2016 and 2017, the agency now maintains a steady pace, and assists numerous families in search of a permanent new home in each stage of their project. "Giving advice is part of our DNA. This is how we have built a solid local network based on trust. Our clients' loyalty is our greatest source of pride." What about prices ? "We can talk about a return to normality. Buyers are now more patient and take the time to compare and reflect, though love at first sight still happens... We are fortunate in that we can propose a good many properties likely to trigger an immediate response" explains our expert. The Grange-Delmas Agency also proposes a rental and property management service based on the same principles, and meeting with the same success.
Specializing in contemporary properties, the Espaces Atypiques agency offers a rich array of remarkable, unusual homes, in Bordeaux and its surrounding area. "In fine weather, clients are drawn more to properties benefiting from generous outdoor areas. Most of the addresses we present offer roof-terraces, landscaped gardens, small "Tropezian" terraces... Whether they are old wine warehouses rehabilitated as lofts or architect-designed houses with flat roofs, these residences allow for a comfortable lifestyle inside and out," says Clément Kaufmann, manager of this go-ahead agency. As an example of typical properties in his portfolio, he mentions a house of 281 m2 in Californian style with a heated pool sheltered from view, in the Pins Francs neighbourhood in Caudéran. Built by an architect in grounds of 1,550 m2 in a quiet, natural environment, this house all on one floor offers generous volumes and high-spec appointments. It is up for sale at 1,550,000 €. And on the subject of the market ? "We are seeing a steadier pace, and prices per sq. metre are beginning to make more sense."
You will also like