Bordeaux city centre, a more stable market
Following the spectacular boom that began at the end of 2017, Bordeaux's property market is getting its breath back and seeing more stability. Prices are witnessing a slight decline and the stock of available homes is on the rise. Investors have made way for buyers looking for their main homes, still drawn by the smartest addresses in the city centre.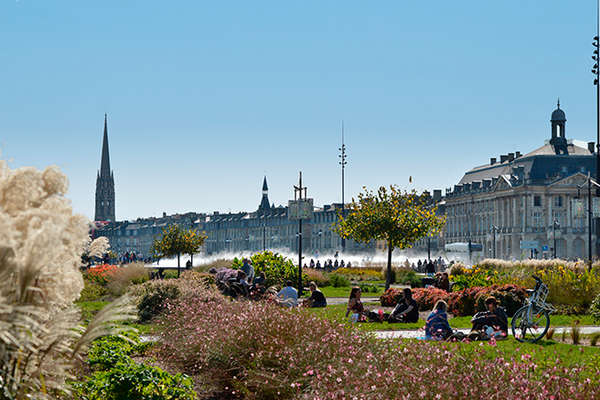 The centre of Bordeaux is a dense concentration of this great historic city, a gem of culture and heritage.
A multi-agency network with about 60 offices in strategic locations in metropolitan Bordeaux, the Bassin d'Arcachon, Les Landes and metropolitan Toulouse, the Cabinet Bedin Immobilier is pursuing its development. It has just inaugurated a new agency on Cours Geroges Clémenceau in the centre of Bordeaux, specializing in new properties and business premises, and a new agency dedicated to prestige properties will open its doors at the end of December in Le Moulleau, on the Bassin d'Arcachon.
"Since September, we have seen a lively market fuelled by an upturn in activity as compared to the summer months, which turned out to be relatively quiet," says Fabienne Romain, manageress of the agency on Cours de l'Intendance. "There is a better balance between supply and demand than last year in the same period, when we were faced with real scarcity. In the centre of Bordeaux, the most highly-prized neighbourhoods are still the "Golden Triangle", Jardin Public, Saint Seurin and Croix Blanche. Old stone is very popular and, in the case of apartments, a lift and parking place are amenities that make all the difference." In these areas, sales recently handled by the Cabinet Bedin attain 9,000 € per sq.m for apartments of less than 50 m2, and from 7,000 to 7,500 € per sq.m for living space of over 100 m2. However, according to our expert, a terrace and lovely view will see prices rise, as in the case of a renovated apartment of 125 m2 with a terrace offering a direct view of Jardin Public, which recently sold for around 950,000 €.
Launched almost 12 years ago, the independent agency J'habite En Ville specializes in sales, property and co-ownership management in the centre of Bordeaux. "Supply now outstrips demand, the market has done an about-turn as compared with 2017," confides Emmanuel Coustaud whose property portfolio consists of apartments priced from 400,000 to 1 million euros. "Fewer in number, buyers, shared out equally between the actively employed and retirees, mainly in search of permanent new homes, have become more demanding in terms of the quality of the properties, appointments, neighbourhoods... Which has given rise to steadier prices and even a decline for the least sought-after properties." Only small surface areas - studios, 1- and 2-bedroomed apartments - remain scarce. "Today, a budget of 500,000 to 600,000 € allows a buyer to envisage a lovely old apartment of about 100 m2 in a good location," adds Emmanuel Coustaud. "Noble architectural features such as moulded ceilings, parquet floors and fireplaces are highly-prized, together with an outdoor area and a lift... Very rare in the centre of Bordeaux, only in a very few buildings."
"The boom we saw at the end of 2017 has run out of steam," says Aymeric Sabatié-Garat, assistant manager of the Barnes agency at the heart of Bordeaux's "Golden Triangle" since 2013. "We have noted a drop of 30 % in the number of buyers - mostly investors - and a marked rise in the stock of properties up for sale. Prices have stabilized, and now post a decline of 5 to 8 %. Properties have returned to their real market value with prices close to those posted at the beginning of 2017." The Barnes agency proposes luxury houses and stately, high-spec apartments. And in fact, at the top end of the market which comprises the core of the agency's offerings, high-end properties with the most desirable addresses, such as those in the "Golden Triangle", are still presented at 7,000 to 8,500 € per sq.m when they can claim a full array of assets : upper floor, lift, unobstructed view, sunny orientation, high-spec appointments... "Those which are rather dark, in buildings without lifts, or giving onto very busy streets, tend to be offered from 5,500 to 6,000 € per sq.m," adds Aymeric Sabatié-Garat, whose clients are still looking for exceptional properties. One such house, with a lift, garage and swimming pool in the Jardin Public area, a noble property of 400 m2 benefiting from tasteful appointments and clear views, just found a taker at 3.4 million euros. "The market in the centre of Bordeaux is still very attractive and its properties are of high quality. After this period of stabilization, the market should begin to rise again - though at a more reasonable pace."
You will also like