Bordeaux centre, a market of character
Comprised of a succession of old neighbourhoods, squares and quaysides full of charm, the centre of Bordeaux stands out for the richness of its carefully renovated facades. Overview of a market offering properties of charm and character, nestling at the heart of this very attractive city.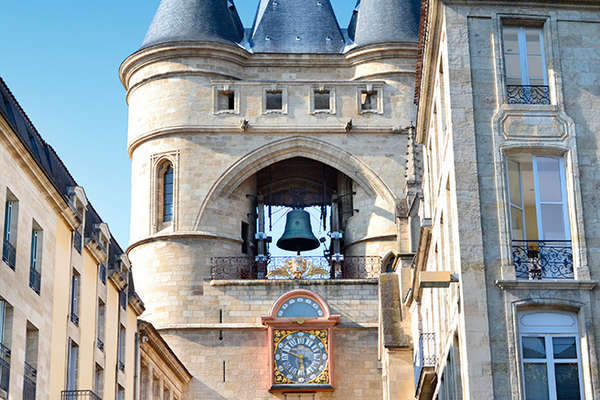 The belfry of the old Town-hall, the "Grosse Cloche" of Bordeaux is one of the many listed sites and landmarks in the city centre.
Located just opposite the Jardin Public for the past 13 years, the Ateliers Lofts & Associés agency proposes a wide choice of meticulously selected properties for sale or rent, some also placed at clients' disposal as backcloths for film or publicity shoots, via its subsidiary Elux. "The DNA of Ateliers Lofts & Associés is to provide a selection of unusual properties ranging from very charming studios to private mansions, old apartments renovated in contemporary style, town houses with partition walls knocked down to obtain spacious volumes, rehabilitated lofts, workshops, warehouses...," explains manageress Vanessa Condom-Garibaldi. "We are constantly searching for properties to renovate offering high potential, and atypical living accommodation." Mostly French, from the region around Bordeaux, Paris, south-east France, or ex-pats planning their return, the clients of this go-ahead agency currently benefit from plentiful offerings. "The trend has gone into reverse. Many fine properties are available, even in the most sought-after neighbourhoods : the "Golden Triangle", Les Chartrons, Le Bouscat and the Quais. Prices have remained in the upper echelons, but are calmer, more stable. Well-informed about the market, discerning buyers no longer bother to visit over-priced properties ; on the other hand, a home presented at the price we estimate has every chance of finding a taker very quickly." Among outstanding properties currently up for sale, Vanessa Condom-Garibaldi mentions a renovated 4-storey building at the heart of Les Chartrons, pegged at 1,860,000 €, a remarkable architect-designed house on a quiet street in the Judaïque neighbourhood, at 1,646,000 €, and a bright apartment with two bedrooms, a study and intelligent layout, on the top floor of a stone building on the Cours du Chapeau Rouge, which sold for 785,000 €.
Operating in Bordeaux since 2009 and based since 2018 in a new agency in the town centre, Maxwell Baynes Christie's International Real Estate focuses on a clientele wanting to acquire an exceptional property or vineyard estate in Nouvelle Aquitaine. "The top end of the market in Bordeaux is still doing well, with the impetus now slackening off after a period of intense enthusiasm," explains the agency's manageress, Carmina Candelero. Ranging on average from 7,000 to 8,000 € per sq.m in the city centre, apartments of character, town houses and private mansions in the agency's portfolio address a demanding clientele targeting the "Golden Triangle", Jardin Public and Parc Bordelais. "Our clientele is comprised of both French and foreign buyers, particularly Americans, who are making a comeback to the region. Some are looking for a smart apartment of about 200 m2, to be used as a base in the town centre, while families, some returning from abroad, are looking for a noble home, conveniently located near schools with excellent reputations." As an example of such properties, Carmina Candelero describes a restored private mansion, enjoying a view of the Jardin Public, offering vast rooms, a Bulthaup kitchen and its own garden, presented exclusively by this agency at a price between 3 and 4 million euros. Another example is a tastefully renovated apartment on the 1st floor of a town mansion near the "Golden Triangle" and Place Gambetta. Comprised of 3 bedrooms, including master suite, and a reception room of generous proportions, it is up for sale at 1,260,000 €.
Clément Kaufmann of Espaces Atypiques Bordeaux confirms that the centre of Bordeaux is home to many unusual properties. "They mainly consist of split-level apartments, lofts and apartments in Haussmann style, located between Saint-Pierre, Saint-Paul and Pey Berlan." 40 and 50 year-olds, fans of original properties and interior decor, are perfectly prepared to "forget about" certain criteria, including those relating to comfort. They will opt for split-level apartments with small roof-terraces or little gardens (living space from 80 to 140 m2), for which they pay on average 4,800 € per sq.m, with spikes up to 7,000 € per sq.m if justified by the location and appointments. One property certainly not run-of-the-mill is a loft of 330 m2 on three floors, offering stunning volumes. In the former stables of Montaigne, at the heart of Saint-Paul, it offers an extraordinary home for 980,000 €. "Today, thanks, no doubt, to TV programmes, buyers pay more and more attention to renovation ; they have learnt a lot and can appreciate a tasteful achievement." A property renovated as per the rules of the art will thus have every chance of of finding a taker quickly, on condition, of course, that its price reflects market realities. With availabilities ranging from 300,000 to 3 million euros, both first-time buyers and the upper socio-professional categories can benefit from a very urban lifestyle and a lively neighbourhood atmosphere.
You will also like