Bonnieux : an international village
Bonnieux is on the northern flank of the Massif du Luberon, a small medieval village attracting all kinds of buyers, many from abroad. It is a market mainly comprised of holiday homes, where clients are looking for a typical Provençal atmosphere.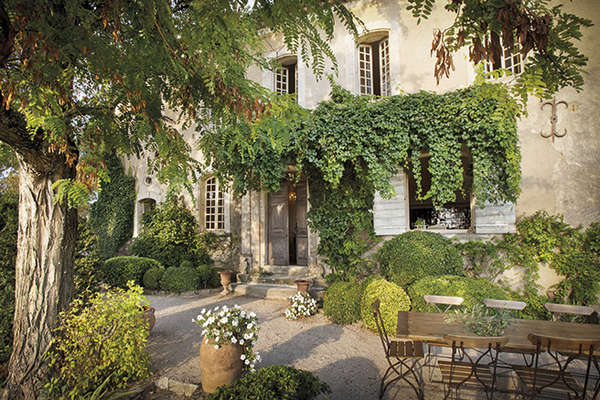 Tastefully renovated, this sublime 18th-C. "bastide" of 204 m2 benefits from grounds of 3,000 m2 with a pool and panoramic view. Moins de 2 M €. Valancogne & Partners (04 32 52 05 10)
When envisaging a home in the Luberon, the first decision that needs to be made is, of course, which village ? Buyers looking for an authentic setting with proximity shops and restaurants, lively all year round, quite naturally set their sights on Bonnieux. Its property market consists almost exclusively of second residences, as explained by Ludivine Le Monnier, co-manageress of the Immobilier Bacon agency : "Our clients come from pretty much everywhere : we are contacted by Parisians in search of weekend homes, ex-pats looking for family residences and, of course, foreign buyers. There is a fairly eclectic choice of properties. We have also noticed that French clients are rather fond of secluded houses, whereas foreigners want to experience the art of living "à la provençale", and are thus more keen on village houses". As well as village houses and Provençal "mas", authentic properties with a certain stylishnesss can also be found here, such as a renovated farmhouse currently proposed by Immobilier Bacon at 1,290,000 €. Offering living space of approx. 166 m2, it benefits from 155 m2 of outbuildings and about 3.7 acres of land. A property enjoying a lovely view of the Luberon and villages in the nearby area.
As a medieval village classed as one of the "Loveliest Villages in France", Bonnieux's first asset is its beautiful stone buildings. Properties of real quality, to which Rudi Janssens, director of the Janssens Immobilier group, based at the Bonnieux-Luberon agency, is drawn more and more : "We mainly target large properties and houses of quality. Which correspond here to a clientele looking for old properties blending authenticity with modern amenities and recent high-spec appointments. It's also worth mentioning that buyers are not too keen on taking on any work, whether construction or renovation. They want a holiday home from which they can benefit immediately. Which is creating a new trend : clients are asking for houses fully decorated and furnished, where they simply need to unpack their bags when they arrive". In Bonnieux, one can distinguish three price brackets : a limited market for village houses, from 200,000 to 400,000 € ; new or recent villas, or villas built of stone, from 500,000 to 1 M € ; and "mas" or large stone properties with pools, ranging from 1.5 to 3 M €. In the last category, Janssens immobilier is currently handling the sale of a 19th-C. "mas" with lots of character, priced at 1,795,000 €. On almost 5 acres of attractively landscaped land, it offers living space of about 300 m2 and a beautiful panoramic view of the surrounding villages. Noble materials, Provençal charm and a lovely pool make it a highly sought-after property.
Bonnieux is 45 minutes from the train station in Avignon, slightly more than an hour from Marseille-Marignane airport. This proximity has an effect on the way buyers see the local property market, as noted by Christine Conrad and Céline Pourrot, sales negotiators with Valancogne & Partners : "Whether French or foreign, most of our clients are in their forties at least, looking for weekend and holiday homes where they can welcome their families". While most acquisitions are thus second residences, some clients are beginning to envisage diffferent types of purchases. "With the TGV and today's possibilities for working from home, more and more people are thinking about a "semi-main" home." Valancogne & Partners recently sold a village house priced under 500,000 €. With living space of about 150 m2 including good-sized living-rooms, it offered a large terrace with a view of the Luberon and the entire valley. The special feature about this sale was that the property was snapped up before even being put on the market. Reactivity that does not surprise the two professionals : "There is a real upturn in interest in real estate. Though our area is affected by economic news, such as the UK Brexit referendum. Even so, the season is getting underway and clients are knocking on our door. We are looking forward to the coming months with a very positive approach !"
You will also like