Biscarrosse : between lakes and ocean
Sandwiched between the large lakes of Cazaux-Sanguinet and Parentis, pine forests and the Atlantic Ocean, Biscarrosse is a town in the Landes which is particularly pleasant to live in. An appealing address, but also affordable.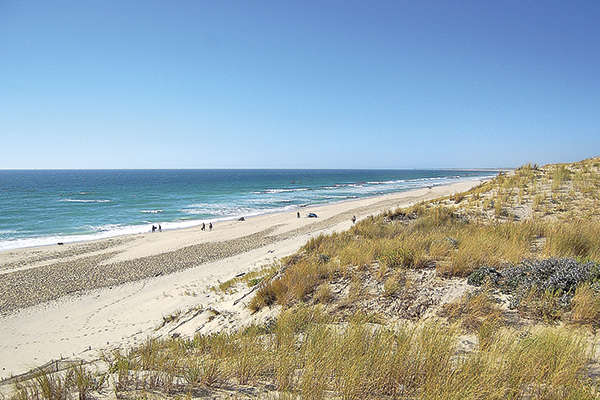 Biscarrosse has two sources of income : its traditional forestry activity, and seaside tourism in summer.
A well-known seaside resort and the most densely populated commune in Le Pays de Born with about 13,000 inhabitants, Biscarrosse is on the northern coast of the Landes. "Borne along by a significant rise in population figures, the area is seeing constant development," says Arnaud Crespi, manager of Foncia Gosselin, a family-run agency covering Biscarrosse, Parentis-en-Born, Ychoux and Sanguinet for the past eight years. "For a 2-bedroom apartment built in the 1960's-1970's, one can expect to pay from 80,000 to 90,000 €. In a recent residence, the same type of apartment costs from 160,000 to 180,000 €." In the case of houses, the numerous examples of the contemporary style are worth from 250,000 to 350,000 € for living space of 90 to 120 m2 with gardens of about 700 m2. Recent bungalows in fact account for the largest number of sales handled by the agency. "Our clientele is mainly comprised of people from large cities who settle here when they retire." One of Arnaud Crespi's most recent sales was, precisely, a 2-bedroom apartment in good conditon, acquired for 100,000 € by clients from the Parisian region.
Philippe Ducamp, property consultant with the Cabinet Bedin Biscarrosse Plage, is based in the lively seaside resort. Founded in 2003 and now with a second office in Biscarrosse-Bourg, the firm maintains a large portfolio in order to meet strong seasonal demand, especially for rentals. "In Biscarrosse-Plage, the price of a studio ranges from 70,000 to 80,000 €. A 1-bedroom apartment of approx. 26 m2 costs close on 90,000 €, while a 2-bedroom apartment of 40-45 m2 fetches around 160,000 €. As for more recent properties of about 60 m2, they can be found for about 220,000 €." Or more, depending on the view, as exemplified by an apartment of 65 m2 with a view of the ocean, which recently sold for 260,000 €. "Houses from 70 to 80 m2 in need of renovation, with gardens of 300 to 600 m2, cost from 260,000 to 280,000 €. Over and beyond that level, you can find homes of 110 m2 with gardens of 700 to 900 m2 for 350,000 to 380,000 €." According to Philippe Ducamp, prices in Biscarrosse are stable, underpinned by "a limited number of clients, who are nevertheless of good quality". Those looking for year-round homes are mainly first-time buyers who can pay up to 300,000 €. "For holiday homes, buyers have higher budgets. They are often investors looking for properties suitable as seasonal rentals."
You will also like