Bidart, ever more popular
Embellished, revitalized, offering a wealth of services, amenities and more smoothly flowing traffic, Bidart conveys contagious, convivial energy reflected in its high level of appeal. Next to Biarritz, Bidart runs along a 5-km coastline split into six beaches overlooked by cliffs covered in lush vegetation.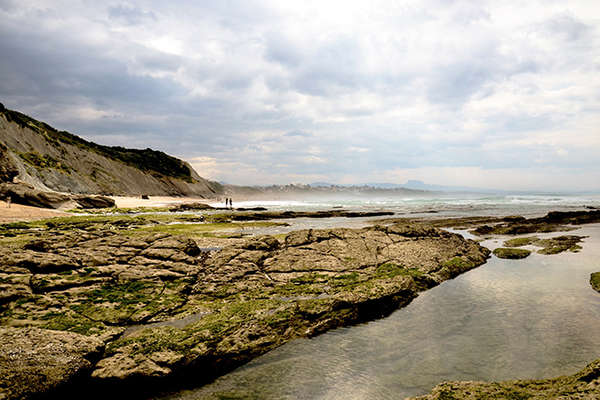 Surrounded by Guéthary, Arbonne, Ahetze and Biarritz, Bidart is a charming seaside resort, home to almost 7,000 year-round residents.
"Not so long ago, Bidart was often chosen by buyers who could not find properties in Guéthary : today the trend has reversed," says Caroline Laffontan of the Laffontan Immobilier agency in Saint-Jean-de-Luz. "Bidart has clearly become a market chosen by a growing number of buyers, particularly Parisians, regular visitors to the French Basque coast. Impressed by its liveliness, its quality lifestyle and all its amenities, some even decide to live here year-round." Stretching over 12 km along the Basque coast and ideally located between Biarritz and Saint-Jean-de-Luz, Bidart is a pleasant seaside resort mainly focusing on tourism. Its urban area is split in two running north-south, separated by the RN10, the railway and A63 motorway. "Buyers of holiday homes inevitably look for houses on the ocean and village side. Intending to take full advantage of their stays, they want homes allowing them a walk-everywhere lifestyle, whether to the beach, shops or restaurants. Prices on the "ocean side" are therefore higher than on the "mountain side", where properties are more sought-after by local families and buyers from south-west France." As examples of properties representing today's market, Caroline Laffontan mentions the recent sale of a neo-Basque house of 210 m2 with a garden of 800 m2 and a pool, on the sea side. In need of refurbishment, it sold for 1.4 million euros. On the "mountain side", a house of 270 m2 in grounds of 2,000 m2 is currently up for sale at 1.1 million euros
For over 15 years, Guéthary Immobilier managed by Chantal Marthan has provided expertise on the property markets of Guéthary and Bidart. A go-ahead agency still pursuing its development, it has just welcomed a new team member, Marc Jungblut, who joins a sales team now comprised of four consultants offering perfect mastery of these markets. "In fact, Bidart can claim on-going popularity, especially for the sea side part where the market is very tight and prices very high," says Chantal Marthan. "As illustrated by a house built in 1925, renovated throughout, in grounds of 1,350 m2, whose sale we handled at a price between 1 and 1.5 million euros." Clients of this agency, mostly senior executives and self-employed professionals with budgets ranging from 1.5 to 2.5 million euros, must thus summon up their patience. "Bidart has become a specifically targeted market," comments Chantal Marthan, whose property portfolio is currently comprised of quality homes on this commune such as a 4-bedroomed example in Bidart Bassilour, on offer at 954,000 €. Just 20 metres from the beach, another such house contains a light and airy apartment of 105 m2 completed by 2 garages in the basement, up for sale at 525,000 €.
You will also like