Bidart, ever more popular
Next to Biarritz, Bidart benefits from a coastline of 5 km comprised of six lovely beaches overlooked by wooded cliffs. This charming locality with 5,800 residents is certainly no longer a fall-back market...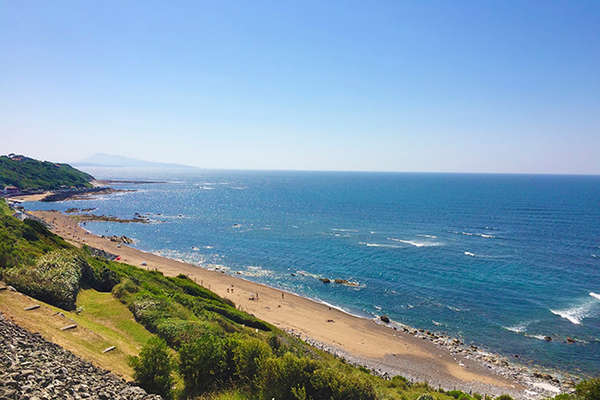 Considered as one of the most beautiful beaches in the French Basque country, the sandy Parlementia stretches from Bidart to Guéthary.
With a fondness for its Labourdine architecture, Bidart offers countrified charm on the shore of the Atlantic Ocean. Highly-prized during the euphoric years under the Second Empire and during the "Belle Epqoue", Bidart still boasts a few outstanding properties, such as the residence extended by Nathalie of Serbia in the 19th century, and the Château of the Baron de l'Espée. Here, both residents and tourists enjoy a casual and sporty lifestyle in the great outdoors. The commune is cut into strips running north-south created by Route Départementale 810, the railway line and the A63 motorway.
"The area is clearly split into two distinct parts," says Chantal Marthan, manageress of Guéthary Immobilier, an agency which owes its expertise to 15 years of transactions in Guéthary and Bidart. "The result is a property market also split into two sectors. The strip on the sea side running from the plateau to the River Uhabia is naturally the most sought-after, and thus the most expensive. We have, for example, just handled the sale of a house of 150 m2 built in 1925, in need of total renovation. Set in grounds of 1,350 m2 where a second house could be built, it sold for 1,350,000 €." In the area near the ocean, the agency currently has several properties for sale, including an apartment of 45 m2 right at the water's edge, prolonged by a terrace of 40 m2 offering a fabulous sea view, on offer at 450,000 €. "On the other side of the Route Nationale, prices decline the further one gets from the sea. In any event, properties of quality are rare on the market. You could describe all the offerings in Bidart as rather limited." Chantal Marthan's clientele consists of retirees from the north looking for their new main residences, ex-pats in search of a holiday home offering the potential to become their permanant address on their return to France, and families who, since the boom in working from home, live here year-round, especially as Bidart has endowed itself with an enlarged and modernized primary school, as well as all the amenities required for pleasant everyday living.
"Bidart is now as much sought-after as Guéthary," says Patricia Biondi of Sotheby's International Realty, based in Biarritz for the past 28 years and offering a portfolio of high-end and prestige properties in Biarritz, Guéthary, Saint-Jean-de-Luz and Bidart, mainly destined to become the holiday homes of buyers from Paris, England, Bordeaux or Toulouse. "While prices here are lower than those seen in Bidart's illustrious neighbour, Biarritz, they are rising in the coastal area and the village centre. Bidart has become a ravishing little village lively in all four seasons, thanks in particular to a weekly market and shops of quality. Everyone appreciates its beaches, whether fans of surfing or those wanting to benefit from a shoreline that is still rather wild. Bidart is definitely a market which is deliberately chosen, not a fall-back option. Substantial properties attain high prices, as demonstrated by a house of 230 m2 in a flat garden of 770 m2, whose sale we have just completed. Ideally located in the centre of the village and thus within walking distance of everything, this property enjoying a very pretty view of the mountains sold for 1,660,000 €." On the other hand, as soon as one crosses the Route Nationale, prices quieten down. Apartments offering tasteful appointments are priced around 4,000 € per sq.m.
You will also like