Bidart, at the heart of the Basque Coast
Ideally located between Biarritz and Saint-Jean-de-Luz, Bidart is a charming, lively little town overlooking the ocean. Benefiting from a coastal strip of 5 km split into six generous beaches overlooked by luxuriant cliffs, the commune appeals to many buyers in search of a quality lifestyle.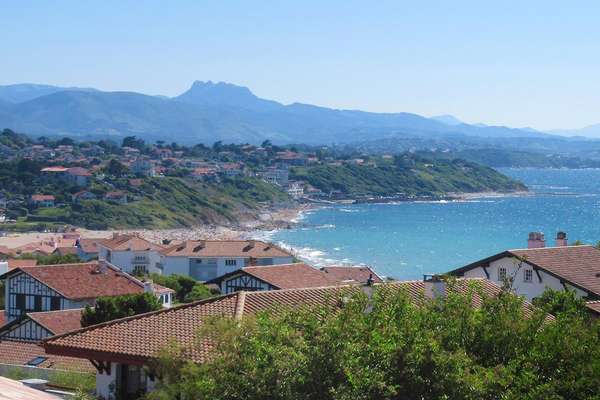 Down below the cliffs, Bidart's six beaches extend over 5 km with the Pyrenees in the background.
Carefully preserving its Labourdine architecture, Bidart offers leafy, ocean-side charm. Popular during the Roaring 'Twenties, the Second Empire and the "Belle Epoque", Bidart still hosts a few outstanding properties such as the residence built by Nathalie of Serbia in the 19th century and the castle of the Baron de l'Espée. The commune is split into strips running north-south created by the Route Départementale 810, the railway and the A63 motorway.
"Offers in Bidart are limited while demand remains strong, especially for the seaside area, as the town is clearly split into two distinct parts," explains Chantal Marthan, manageress of Guéthary Immobilier, an agency offering expertise for over 15 years in transactions in Guéthary and Bidart. "The result is a property market also split in two. Running from the plateau to the River Uhabia, the coastal strip is naturally the most highly-prized area and thus the most expensive. Some properties sell for several million euros." In this oceanside area, Chantal Marthan currently offers several properties for sale, including a lovely Basque-style house in a garden of 950 m2, near the Parlementia and Ubahia beaches, priced at 895,000 €, and a split-level apartment of 170 m2 in a renovated old farmhouse in Ilbarritz. On offer at 699,000 €, this rare property prolonged by a generous south-facing terrace is within walking distance of the golf-course and beaches. "We are seeing growing demand from young retirees who sell their homes in the Paris region to settle in Bidart. They are looking for large houses which can accommodate their families for their holidays, while enabling the owners to benefit year-round from top-notch living conditions."
Increasingly sought-after and offering high-quality properties, Bidart is doing well on the prestige real-estate market. "This winter, in all confidentiality at owners' requests, we have orchestrated several important sales on the commune, two at around 3 million euros with French buyers looking for holiday homes on the French Basque Coast," says Philippe Thomine-Desmazures, manager of the Barnes Côte Ouest agencies in Biarritz and Saint-Jean-de-Luz. He points out, however, that prices of front-row properties are losing some of their value due to the natural erosion problem making the cliff more fragile. "Today, because of this fact, buyers prefer the second row or properties in nearby countryside offering lovely elevated views of both coast and country." By way of example, Philippe Thomine-Desmazures mentions a superb contemporary property set in a wooded park of about 8.65 acres. Offering distant views of the sea, this outstanding property of 700 m2 comprised of the main house, a guest cottage and a self-contained apartment, is up for sale at 3,750,000 €.
You will also like