Bidart : an exclusive coastline
Bidart's highly privileged property market is dominated by detached houses with quality appointments that appeal to a growing number of families from large towns.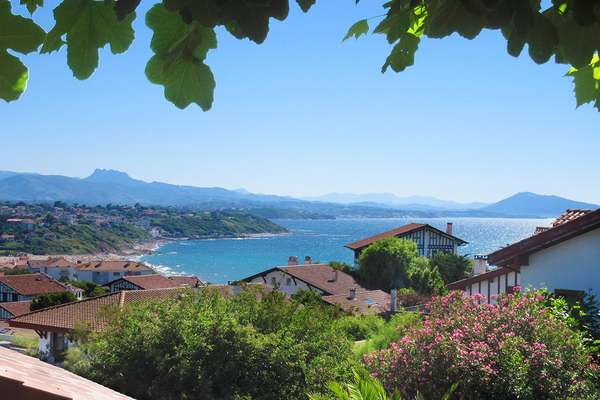 Ideally located between Biarritz and Saint-Jean- de-Luz, the charming village of Bidart surveys the ocean with the Pyrénées in the background.
Specializing in real estate since the 1990's, Chantal Marthan runs the Guéthary Immobilier agency which handles sales within a perimeter stretching from Bayonne to Ciboure. "In Bidart, buyers are mostly looking for properties within walking distance of the beach. On the coastal strip, the starting-price is 7,500 € per sq.m, but availabilities are very rare. Beyond the "Départementale", prices are more affordable - from 5,000 to 7,500 € per sq.m on average, with variations, of course, depending on appointments and location." In all the villages along the coast, Chantal Marthan is seeing a scarcity of properties, underscored by a fresh flow of buyers since the start of the pandemic. "During the first confinement, many families from large French cities rented properties in our region. Becoming aware of the quality lifestyle offered by the Basque coast, they began to search for permanent homes. The rarity of available properties then led to a rise in prices posted by sellers." In addition to the shoreline which remains highly-prized, the neighbourhood above Bidart's little chapel draws high demand : within walking distance of the beach, it offers splendid sea views. "The market for new properties is also particularly lively : purchasing on plans reduces costs - from 6,500 to 7,500 € per sq.m -, with developments mainly consisting of small residences on three floors at most, highly appealing to buyers." Finally, Guéthary Immobilier is looking for new sales mandates : owners wishing to sell are invited to contact the agency.
An agency on a human scale with a firmly independent family spirit, Artis Immobilier was founded in 2008 in Saint-Jean-de-Luz by Antoine Rhoné and his brother Guillaume. Covering the Saint-Jean-de-Luz area since 2009, the association between Antoine Rhoné and Frédéric Diana gave rise to the agencies in Saint-Pée-sur-Nivelle and Guéthary. "The agency's team is very stable : our colleagues have worked together for more than five years. We place at our clients' disposal over ten years of expertise in sales transaction in an area extending from Bidart to Hendaye, along the coast, and rising inland as far as Espelette. In Bidart, the market is dominated by detached houses offering quality appointments, accessible with budgets ranging mostly from 600,000 to 1 million euros." Our specialist noted a rise in activity right after the first lockdown to compensate for the accumulated delay, but so far no impact on prices. "The Bidart area is looked upon as privileged. Offers here are therefore rare, and deliberately exclusive. The most sought-after locations are on the shoreline, in Bidart and Saint-Jean-de-Luz. Even so, over the past three years, the commune of Saint-Pée-sur-Nivelle has met with marked success." Mostly French, the clientele is comprised of first-time buyers, employees with comfortable incomes, and a growing share of retirees from Toulouse, Bordeaux, even Paris, looking to settle permanently in the region. "On the market for new properties, the average price can vary but is around 5,000 € per sq.m in the area we cover."
You will also like