Biarritz, rock solid success
Whether clients from Paris, Lyon, Toulouse, the south-east, Belgium, or ex-pats planning their return to France, buyers in search of the prized lifestyle offered by the Basque country form a long list. Here, you have to act fast. Very fast...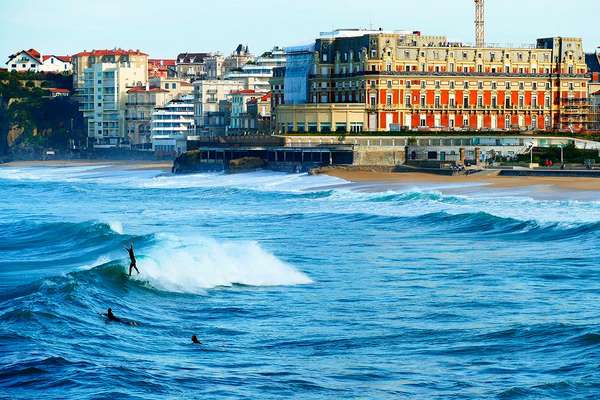 Based on Avenue Reine Victoria in the sought-after Impérial neighbourhood, the Victoria Immobilier agency run by Emmanuelle Hirigoyen since 2015 presents properties of quality in and around this prestigious address, all over Biarritz and on flagship communes in the Basque country. "The market continues to flourish," says Emmanuelle Hirigoyen. "The pandemic has convinced many French people, mostly Parisians, to move to Biarritz with their families to live in main or semi-main homes, as they benefit from the new ways of working. This strong demand is joined by traditional searches for holiday residences. The result is an uneven market in which demand outstrips supply with an inevitable impact on prices." Average prices in the city centre are currently around 8,500 € per sq.m, as demonstrated by the speedy recent sale (in 15 days) of a fine apartment of 78 m2 in a sought-after residence with a lift on Avenue Reine Victoria. Benefiting from an outdoor area and a parking place, it sold with no bargaining for 8,300 € per sq.m. "It now sometimes happens that I do not post certain properties on line. My list of serious clients enables me to trigger a sale with just a few telephone calls. I am very familiar with my clients' lifestyles and expectations. We build sound relationships. When I tell them I have found a property that will suit them, they trust me," says this estate agent, whose property portfolio for Biarritz is currently mostly comprised of 2- and
3-bedroomed apartments.
"Faced by the growing popularity of the market in Biarritz with demand further accentuating the scarcity of availabilities, many buyers turn their attention to neighbouring communes such as Arbonne, Arcangues, Bassussary, or even further inland," explains Anne-Marie Langla, Manageress of DL Immobilier, an agency focusing on sales throughout the Basque country and in the southern Landes as far as Hendaye. "To target a comfortable family home in these areas, one now needs a budget of at least 1 million euros. We present all kinds of properties from small pieds-à-terre to substantial villas, rental investments and shop premises. Our agency is expanding with the launch of a second address in the autumn, at 15 Avenue Victor Hugo in Biarritz, again in the neighbourhood of Les Halles." For this agency's team, even though real estate is still seen as a profession based on contact, the current context has not prevented them from orchestrating transactions of quality. "We have developed visits by video, and have thus been able to sell properties without clients needing to travel. Today, it all happens very quickly," says this expert who mentions, as an example of properties recently sold in Anglet, a smart house designed by an architect with a swimming pool, covered terrace and garage in the Golf du Phare neighbourhood, pric­ed at 1,785,000 €.
You will also like