Biarritz, more properties on offer
Following several months when the market trend seemed to be defined by a shortage of properties, several agencies are seeing their portfolio of houses and apartments for sale expand. A return to a more even balance between demand and supply ?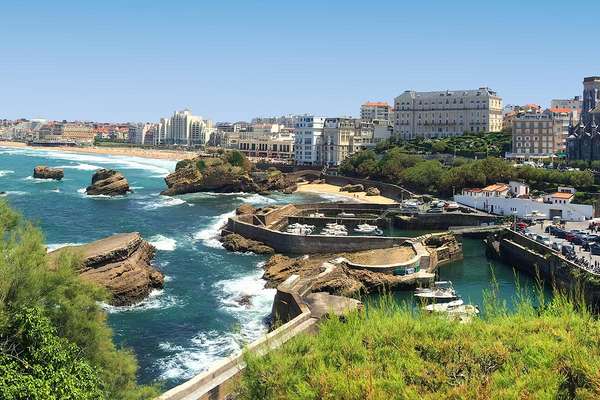 Benefiting from a privileged location and offering a sought-after high-quality lifestyle, the elegant European capital for surfers remains highly prized by French buyers.
Based in Biarritz since May 2017, and more recently at 29 avenue de Bayonne in Anglet, Stéphane Plaza Immobilier has all kinds of properties for sale in Biarritz, Anglet, and neighbouring municipalities : Bassussary, Arcangues, Bidart... "Our portfolio of properties includes studios priced at 180,000 €, but also luxury apartments exceeding 1 million euros," say Benoit Miche and Sébastien Beauville, two of its associate directors. "However, 1- and 2-bedroomed apartments ranging from 250,000 to 700,000 € constitute our core market. We have a diverse clientele consisting of buyers of main and holiday homes, and rental investors, to whom we propose dedicated assistance. Mostly French, they are actively employed, retired or looking forward to retirement. Just recently, we have also stepped up our activity in new properties after hiring a specialized team member." Reassured by the seriousness conveyed by the agency's media image, clients appreciate the expertise and personal skills of this passionate team which benefits from high-performance tools for home-staging and virtual tours to ensure professional handling of transactions. "We offer clients 3D presentations of properties when they are in need of renovation. We then help them to carry out the work, thanks to our efficient network of local professionals," adds Benoit Miche. In Biarritz and Anglet, their clients are mainly looking for 1- or 2-bedroomed apartments. "Budgets are usually in line with market prices. Though our role consists of making clients realise that it is hard to find a property meeting all their criteria. A 2-bedroomed apartment with a terrace and parking place remains rare in the centre of Biarritz. The problem is not about prices, but willingness to make concessions."
What about the prestige market ? "After being faced by a scarcity of properties in the spring, we are now seeing a more balanced situation. Undoubtedly motivated by price levels, a good many owners have decided that it is the right time to sell, resulting in a market with a wider choice. Our property portfolio now contains 136 houses and 153 apartments all over the French Basque Coast, including 31 apartments and 15 houses in Biarritz," says Philippe Thomine-Desmazures of the Barnes Côte Basque agency. As an example of its properties currently for sale, he mentions a split-level apartment of 275 m2 enjoying a very lovely view of the Grande Plage and the ocean. Requiring renovation, this 7-bedroomed property in the town centre is on offer at 2,180,000 €. "We expect this fresh influx of properties to allow for realignment of prices over the coming months."
You will also like