Biarritz, in search of a rare gem
As popular as ever ! Many buyers, whether looking for main or holiday homes, still dream of a great place to live in the centre of Biarritz. A dream admittedly not entirely unattainable, but one which requires patience, a spot of luck and, above all, a generous budget.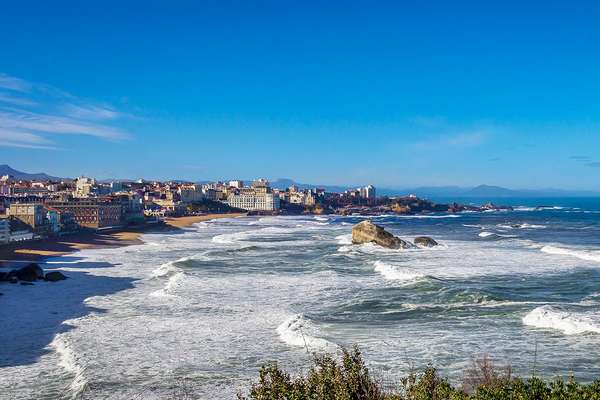 A prestigious apartment on an upper floor, prolonged by a terrace facing the sea, in the Milady neighbourhood, now fetches close on the price of a property in the 15th arrondissement of Paris with view of the Eiffel Tower.
Based at the heart of the lively neighbourhood of Les Halles, Globe Immobilier offers an array of properties in Biarritz at prices ranging from 200,000 to 2 million euros. "Our location in this "must" neighbourhood brings us a very diverse clientele. Prices are still high and, in the past few months, we have seen a rise, particularly for houses, of around 5 to 10 %, due to their extreme rarity in the centre of Biarritz. As for outstanding apartments, on top floors, on the front row, and extended by large terraces, they can now attain around 15,000 € per sq.m," says the agency's manager, Olivier Brégeon. Few and far between on the market, apartments of quality are also posting unprecedented prices. "Today, in the centre of Biarritz, you need a budget of around 700,000 € for a 2-bedroomed apartment of 70 m2 benefiting from a small outdoor area and a parking place," says this expert, whose clientele is now comprised of more and more active Parisians from 35 to 45 years old, wanting to live permanently in Biarritz, and preferring to spend two days a week in Paris for their work. "They have often sold a property in the capital, and can usually pay at least 1 million euros. They are looking for family homes in a neighbourhood not subjected to any noise." As an example of recently sold properties, Olivier Brégeon mentions a loft near the Clémenceau neighbourhood. Offering living space of 140 m2 plus a converted basement of 100 m2, this exceptional property, tastefully renovated throughout and benefiting from a terrace and garage, sold in just three days, for 1,270,000 €. In this tight market, newer properties attract clients fully prepared to head for the hills, overlooking the Milady neighbourhood. Here, Olivier Brégeon proposes fully renovated villas of 150 m2 with pools, on offer at 1,490,000 €.
Based in the Impérial neighbourhood, Victoria Immobilier, run by Emmanuelle Hirigoyen since 2015, offers a wide choice of properties in and around this prestigious address, and also in Ascain, Saint-Jean-de-Luz and the entire Pays Basque. "Confronted by this narrow market where high prices result from scarce availabilities, buyers make concessions on at least one of their search criteria. If a property meets 90 % of their requirements, they act fast." Mostly in search of holiday homes, Victoria Immobilier's clients consist of Parisians and Toulousains. "Most of my clients are looking for apartments with 1 to 3 bedrooms, allowing for a "walk everywhere" lifestyle," says Emmanuelle Hirigoyen. "Ideally, these apartments should offer a small outdoor area and a parking place. Today, a 1-bedroom apartment in the town centre fetches around 350,000 €. If it has a balcony and parking place, it soon attains 7,500 € per sq.m." Very rare, houses are highly sought-after, as demonstrated by a charming property of 165 m2 with a mature garden and swimming pool. Completed by an annex of 34 m2, this residence in an historic neighbourhood, about a 10-minute walk to the town centre, is presented by Victoria Immobilier at 1,365,000 €. "This is just the kind of property that generates lots of interest as soon as it appears on our website."
You will also like