Biarritz and the French Basque Coast
Becoming a French-style California, the Basque Coast offers a unique lifestyle between ocean and countryside. Elegant, safe, and urbanized with common sense and respect for its heritage, it is inspiring even more enthusiasm, reinforced by the health crisis.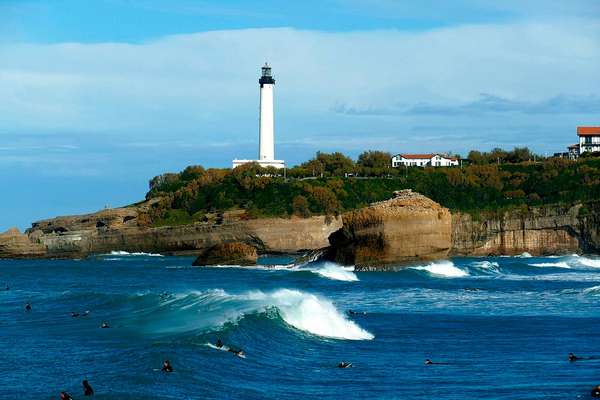 A fashionable destination, Biarritz is more than ever acclaimed by buyers heeding the call of the ocean and wide open spaces.
The market has lost none of its dynamism," says Bénédicte Marchal of the Sotheby's International Realty agency based in Biarritz for almost 30 years, specializing in prestige real estate from the southern part of Les Landes to the Spanish border. "Our agency proposes an array of properties ranging from apartments to seafront villas or family residences in the country, all selected in keeping with the criteria of excellence of the Sotheby's IR network, to meet the demands of a discerning clientele in search of a quality environment offering enviable appointments or very high potential." Just a few hours from Bordeaux, Toulouse or Paris, the French Basque Coast is becoming even more appealing for its quality lifestyle and rich heritage. "It is a market under pressure, with constantly rising demand for both year-round residences, holiday homes and financial investments." Bénédicte Marchal goes on to describe its assets : "The local market offers a rich and diverse legacy, both cultural, architectural and in terms of landscapes, known and recognized well beyond our frontiers. We work extensively on the market for second residences with a foreign and ex-pat clientele, very fond of the Basque Country, together with young retirees and families wanting to make a life-changing move and take advantage of our magnificent region, its traditions, culture and lifestyle. The market is still rather stretched. The Covid-19 crisis certainly brought a slowdown, though we had many calls during the confinement period, and the market has since regained all its energy." The most highly-prized properties in Biarritz ? "As always, front-row apartments extended by large terraces offering ocean views, and properties in the hyper-centre allowing for a "walk everywhere" lifestyle. The Impérial neighbourhood, Saint Charles, Les Halles and La Côte des Basques - Beaurivage are still the addresses most sought-after by clients aiming for a town house of 100 to 120 m2 with budgets from 800,000 to 1 million euros, or a large luxury apartment on the seafront worth several million euros.
Whether in Arbonne, Arcangues, Bassussary, Ahetze, Ascain or Urrugne, properties in the countryside are also in high demand. "Many buyers from Paris and Toulouse who spent their confinement in the region, in their holiday residences or parents' homes, have realised that they want to move here permanently," says Philippe Thomine-Desmazures, Director of the Barnes agency which is celebrating its 10th anniversary this year. "You could well say that demand is literally exploding. Some buyers are looking for a property just for themselves, or a larger residence, especially with a generous outdoor area, as the need for space, natural greenery and open views is being felt more than ever before." To illustrate his remarks, Philippe Thomine-Desmazures says the agency's website drew around 500 visits per day in the spring of 2019 : this year, it chalked up more than 1,500 visits a day. "The entire coast is drawing attention and we have noticed wider interest in the countryside than in previous years." Buyers with budgets from 1 to 3 million euros are, however, confronted by relatively scarce offers, even if many of them now give preference to spaciousness rather than a view of the ocean. Equipped with spearhead digital tools, enabling in particular virtual tours of unequalled quality, the Barnes agency was able, to satisfy its clients throughout the entire confinement, even completing sales at a time when many buyers actually had the time to finalize their plans. "Three years ago, we used to scan one out of ten properties in their entirety : now it's four out of ten. Digitalization of these processes now forms part of our DNA, and this period has allowed us to further enhance our tools and their use. Even if actual visits have regained their cruising speed, we now know that digital services are a vital asset."
You will also like