Biarritz : an apartment at all cost !
The imperial city still tops the list of the most expensive addresses on the French Basque coast, togther with Saint-Jean-de-Luz. As buoyant as ever, the market for holiday homes focuses, in the case of apartments, on properties blessed with a garage.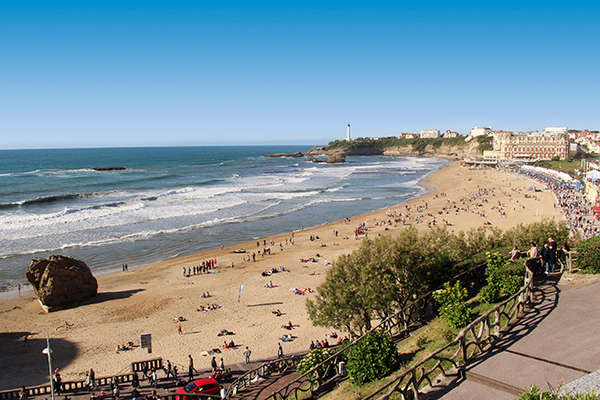 Between mountains and the ocean, the most famous of Basque seaside resorts is characterized by its sumptuous sandy beaches including Milady, La Grande Plage and the legendary Côte des Basques.
A real-estate professional in Biarritz for the past 10 years, Thibaut Longuefosse has observed the rising vitality which has characterized the market in Biarritz for over a decade. An entrepreneur, he decided to set up, with his wife Bénédicte, a legal expert, a new kind of real-estate office called "My Biarritz Property", inaugurated in June, 2018. "At My Biarritz, discretion, advice and a fast response are the key words," says Thibaut Longuefosse. "No need for a window, we design a bespoke marketing strategy for each property that is entrusted to us. For example, we only advertise a property if it is really necessary. We first contact our network comprised of various intermediairies so as to orchestrate fast, successful transactions for all parties concerned." Biarritz is now known as an extremely appealing and sought-after market. My Biarritz adapts each property that comes up for sale to this very tight market, and it works ! As proven by about 15 transactions completed over the past few months, in a market renowned for its scarcity of available properties of quality. Presenting a number of apartments in his portfolio, Thibaut Longuefosse describes the current trend in buyers' searches. "As soon as a property is less than 500 metres from the beach, it will sell even if it suffers from disturbances and is not "complete" - ie. lacking a terrace, a parking place and a lift. Even without a sea view, prices for such properties now range from 5,000 to 9,000 € per sq.m, depending on their characteristics." By way of example, he mentions the recent sale, within one week and at the asking price (325,000 €), of an apartment of 43 m2 extended by a terrace, with a lift, parking place and cellar, in a select residence near the Grande Plage.
Based in the neighbourhood of Les Halles, the Portes Immobilier agency focuses on sales while continuing to develop its "syndic" service by managing many fine residences in Biarritz, and thus benefiting from in-depth knowledge of these co-owned properties for which it often handles sales. "Apartments on offer with a parking place or garage are now extremely highly-prized by our clients, from Paris, Bordeaux and Toulouse, aged from 40 to 65, looking for holiday homes," explains Anaïs Guérin. The town's new policy in terms of parking has played a part in this essential search for a garage. "It now happens that people buy a property with a garage, intending to re-sell just the apartment. Waiting lists are long, with some garages selling for up to 100,000 € in Les Halles." Apartments in select residences at the heart of Biarritz, comprised of apartments with quality appointments, terraces and garages, are thus highly sought-after. By way of example, Anaïs Guérin mentions several sales she has handled in the Résidence de Sion, built in 1995, just a 10-minute walk to Les Halles. Apartments which sold from 6,300 to 8,000 € per sq.m. "The market continues to be very buoyant, with prices of top-quality properties still on the rise. Today, in highly-prized neighbourhoods, a budget of 300,000 to 400,000 € allows a buyer to set his sights on a 1-bedroom apartment of 40 to 50 m2. Three years ago, the same budget would have brought a 2-bedroom apartment of 55 m2."
You will also like