Biarritz, a sellers' market
Biarritz's property market has not flinched for months. This must address in the Basque country is in very high demand, and its exemplary dynamism rubs off on neighbouring markets.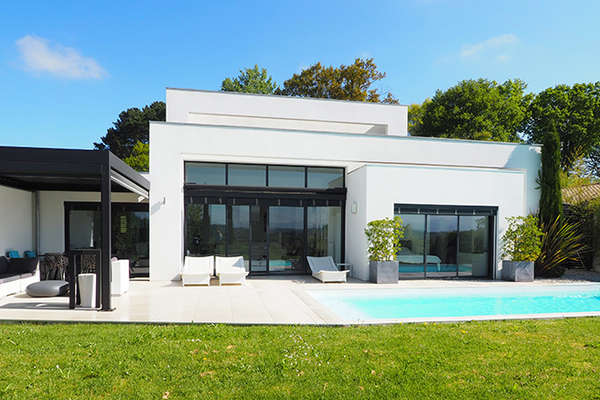 In an elevated position in Anglet, this property of 180 m2 offers striking geometric design. It benefits from spacious interiors, tasteful appointments, and lots of light thanks to its orientation facing south. 1.150.000 €. Ateliers Lofts & Associés (05 59 24 67 48).
As active as ever, the property market in Biarritz draws constant interest on the part of buyers from Paris, Toulouse and Bordeaux looking for main or holiday homes, or rental investments. "Our clients are confronted by increasingly limited availabilities. Properties within walking distance of the town centre are the most highly sought-after, especially if they come with a parking place or garage. They can sell within one day !" says Julie Lamboley of Lofts et Associés, an agency specializing in one-off, unusual and contemporary properties such as apartments stylishly revamped by architects. Situated at 1 avenue d'Ossuna in Biarritz, the agency is tripling its surface area and will offer its clientele a new reception area by the end of the year. Naturally, all this enthusiasm has an impact on prices. "In the centre of Biarritz, they start at around 6,000 € per sq.m, and properties offering lots of assets easily exceed that level. Most of the transactions we handle today go through at the asking price. We are currently seeing a situation in which sellers have the upper hand." Among her recent sales, Julie Lamboley mentions a 2-bedroomed apartment of 70 m2 in a charming small residence in the Hôtel de Ville neighbourhood. Renovated by an architect, it sold after only two visits for 430,000 €. Another example, a loft of 240 m2 with a patio and garage, 600 metres from the town centre, found a taker at 930,000 €. "For apartments, most of our clients have budgets ranging from 400,000 to 500,000 €. Those looking for town houses dispose of 1.3 to 1.5 M € on average - and they are increasing in number."
"As a result of the popularity of the property market in Biarritz, we are seeing rising interest in villas on neighbouring communes, in Arcangues, Bassussary, Arbonne and Ahetze," says Didier Lepinoux of the Agence Bliss & Foch, situated on Avenue du Maréchal Foch in Biarritz. A village offering genuine character, Arcangues, much appreciated for its golf-course and listed château, posts the highest prices in this sector. "Clients in search of houses in Biarritz naturally fall back on these communes, as offers in the town centre are thin on the ground. Furthermore, prices in Biarritz are constantly on the rise. Presented a year ago at around 4,000 € per sq.m, the most basic apartments on the outskirts of town are now priced at about 4,500 € per sq.m, while the most desirable properties facing the sea often exceed 10,000 € per sq.m. On neighbouring communes, a budget of 500,000 to 800,000 € will bring a villa of quality," explains Didier Lepinoux, mentioning for example a house of 220 m2 in need of a revamp, in grounds of 4,000 m2 offering beautiful views of the mountains, and priced at 750,000 €. Another house of 110 m2 in a garden of 1,348 m2 with a pool on the Bassussary golf-course just sold for 450,000 €. "This type of property soon finds a taker. In Biarritz intra-muros, we mainly offer apartments, like one with living space of 90 m2 prolonged by a terrace of 20 m2 enjoying a pleasant view of gardens. In the Saint Charles neighbourhood, and benefiting from a garage, it sold very quickly for 425,000 €."
You will also like