Biarritz, a market called desire
All over France, demand is on the rise for so-called "semi-main" residences that can be lived in for half of the year. In Biarritz, this is not a new phenomenon.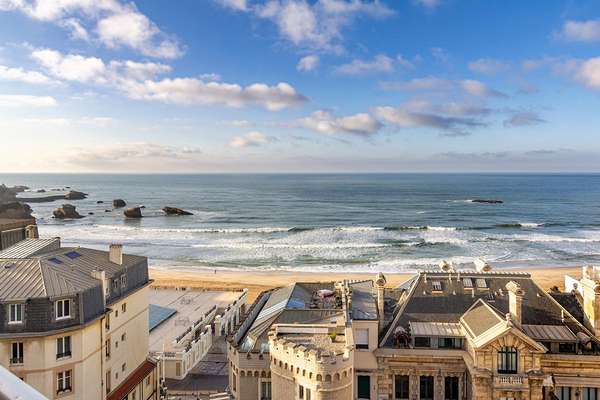 An apartment on a high floor in a residence in the centre of Biarritz offers 4 bedrooms and this lovely view of the ocean. 1.290.000 €. Agence Bliss et Foch (05 59 22 76 76).
Handling sales in all sectors, Daniel Irribaren is the manager of BTZ Immobilier which mainly covers Biarritz, Anglet, Chiberta, as well as Bidart and Ilbarritz. "From studios worth 100,000 € to exclusive residences priced at several million euros, we cover a wide spectrum of transactions. However, two types of properties comprise the core of demand : in the case of apartments, those with 2 bedrooms priced from 400,000 to 700,000 €, or with 3 bedrooms, from 700,000 to 1.3 milion euros. As for villas, they range from 800,000 to 1.5 million euros." While confinement encouraged working from home and resulted in rising demand on a national scale for semi-main residences, the phenomenon is not new here in Biarritz. "Our market is comprised 50% of year-round residences, 50% of holiday homes, though we have many clients living "half time" in Biarritz. This situation certainly became more widespread recently, due to lockdown, though the tendancy to reside for half or one-third of the time in the region has existed here for a very long time." The most sought-after locations are concentrated in the centre of Biarritz so as to be within walking distance of the beach, whereas in Anglet, demand targets the area stretching from Chiberta to the Gulf of Biarritz via the Cinq Cantons area. Due to scarce availabilities, some sellers post high prices, especially for properties of quality, which have registered a rise of about 20% over the past five years. "Our clients appreciate the quality of the properties we select, as well as time-saving tools we place at their disposal, such as the electronic signature of documents and video tours of properties that we produce ourselves."
Within a perimeter covering covering part of the French Basque country, the Bliss et Foch agency devotes itself to sales and rental management, with Didier Lepinoux at the helm. "Our management portfolio currently offers over 300 properties, mainly comprised of apartments and professional premises. As for sales, we are currently witnessing considerable demand for all kinds of homes, especially apartments with outdoor areas - a garden, balcony or terrace -, bearing in mind that most town houses in Biarritz benefit from outdoor areas. Since the end of the lockdown, this criterion has become essential among buyers. Even so, the simple fact of acquiring a property in Biarritz is now seen as a privilege as long as it is within walking distance of the town centre and the beach." Demand largely outstrips supply, giving a buoyant market without prices attaining unreasonable levels. "I do not think that the rise in demand we have seen since the end of the lockdown will last very long ; we should return to a more usual level in the fourth quarter." Blue-chip values still consist of apartments and town houses, as well as all properties offering views of the sea and ideal locations between the Lighthouse neighbourhood and that of Ilbarritz, highly sought-after for many years.
You will also like