Béziers, betting on the future
71,000 people live in Béziers, the second largest town in L'Hérault and the fourth in Le Languedoc-Roussillon. Each year, one million visitors invade this town, 2,700 years old and surrounded by vineyards, to attend its famous "feria". Our estate-agents describe the town's potential...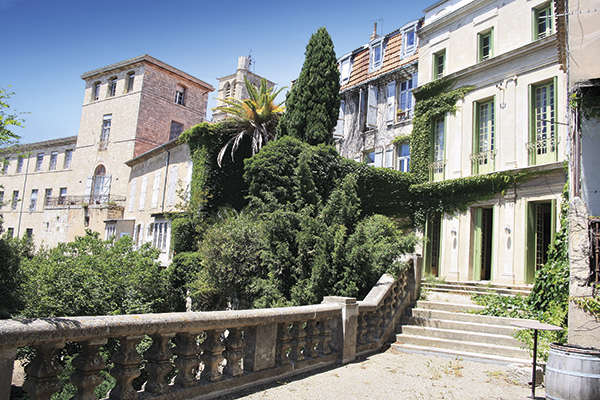 In a renovated mansion at the heart of town, this 3-bedroom bourgeois apartment of 150 m2 with a garage and cellar opens out to a terrace and small garden. 260.000 €. Viasud (04 67 49 92 49).
Béziers is only 10 km from the Med­iterranean, 50 km from the foot-hills. Overlooking the River Orb and Canal du Midi, less than half of its territory is built up. Urban areas are interspersed with open or cultivated land. Neighbourhoods in the heart of town require more rehabilitation, a trend which has, however, already begun. Over the past four years, business and real-estate colleges have seen the light of day, together with a judiciary centre planned for the Wilson Liberté L'Hours neighbourhood.
"2013 got off to a really good start with sales under 150,000 € and above 350,000 €, before coming to a standstill in the spring then picking up again this summer," says Lionel Alauzun of Clemenceau Immobilier. In addition to a few first-time buyers, the lowest end of the market saw interest on the part of rental investors and property dealers. Lionel Alauzun recently handled the sale of two apartments of 60 m2 each in the centre, one in good cond­ition, the other in need of renovation, prolonged by a terrace, for a total 70,000 €. The return on the first apartment is close on 13 %, that of the second 10 % once the cost of the work has been deducted. Above 350,000 €, one can find villas of 130 m2 with gardens of 500 m2 and pools, to the taste of employees or retirees from the Ile-de-France. Evidently, the middle of the range, ignored by a very shy middle class, is having a hard time. With lots of ups and downs, the market is witnessing stops and starts not justified by any particular news item. Over the past few years, some rehabilitation has got going in the historic centre. The embellishments undertaken remain to be seen. Ultimately, the property market is closely linked to that of employment. And from this point of view, action is essential.
"Demand mainly concerns properties under 200,000 €, which is logical when you think of the relatively low level of salaries in Le Languedoc-Roussillon in general, and Béziers in particular," comment Jean-Louis and Hugo Dreuille of the Viasud agency. "Unless they have major defects, prop­erties that have been correctly estimated still find takers within a reasonable amount of time." Béziers benefits from the dual appeal of its geographical position -10 minutes from the Mediterranean - and its prices - among the lowest in the South of France. While some neighbourhoods need renovating, the town's architectural heritage has been given variety over the passing years and is not lacking in charm. Furthermore, it offers affordable prices with the sq. metre pegged at 600-700 €. Our estate-agents mention the recent sale of a 1920's building comprised of three 2-bedroomed apartments of 70 m2 each, acquired by a Parisian executive, pleased to earn a net yield of 9.5 %, for 170,000 €. Lots of investors are betting on higher prices in Béziers in the coming years. Others take advantage of the attractive value-for-money ratio to improve their living conditions. After selling his 2-bedroomed apartment in the 7th arrondissement of Paris, one retiree with a budget of 700,000 € paid 500,000 € for a bourgeois residence of 400 m2 in good condition, in grounds of 2,000 m2 on the outskirts of Béziers. Some operations are particularly enticing, such as an 18th-C. mansion of 450 m2 in the town centre, in its original state, currently under negotiation at 600 € per sq. metre.
You will also like