Between sea and mountains : real estate on La Côte Vermeille
A rocky coastline in the southern part of the Pyrénées-Orientales, stretching from Argelès-sur-Mer to the frontier with Spain (Portbou), the Côte Vermeille is dotted with charming fishing villages which are lively year-round. A peaceful and protected environment.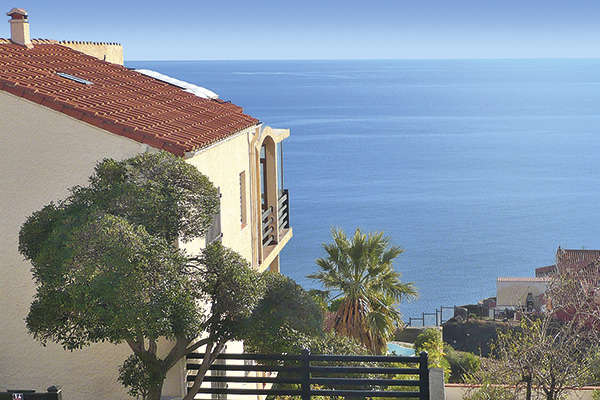 In Cerbère, this town house of over 110 m2 offers three bedrooms and a view of the sea. 276.000 €. Laroca Immobilier (04 68 98 64 36).
The Pyrenees plunging down to the Mediterranean, vines on the hillsides and a shoreline made up of magnificent rocky creeks : welcome to the wild and authentic Côte Vermeille. Its must addresses include Collioure, a seaside resort with about 3,000 residents, whose scenery has inspired many artists. Then there is Banyuls-sur-Mer, another seaside resort (with over 4,500 inhabitants), particularly well-known for its AOC wine ("Le Banyuls").
Nawel Barranger is based in this attractive village as a negotiator for Laroca Immobilier, an agency opened in the year 2002 which has two other branches in Laroque-des-Albères and Ajaccio : "The area is a micro-market in the Pyrénées-Orientales, though prices have seen an adjustment since the crisis, which is drawing new clients". For a studio, one can now expect to pay less than 100,000 €. For a 1-bedroom apartment with a terrace and sea view - very important criteria -, prices rise to 140,000 €. As for 2-bedroomed apartments with the same amenities, they are priced at around 180,000 €. "Village houses can be had for about 200,000 €, while terraced villas range from 300,000 to 330,000 €. Detached houses are pegged above 300,000 €, though they can cost much more than that, especially with a sea view." Finally, building plots, "very rare", cost 300 € per sq. metre. Nawel Barranger receives enquiries mainly from clients with families, looking for holiday homes in pleasant and typical settings, including numerous Scandinavian and British buyers.
15 km north of Banyuls, one finds Argelès-sur-Mer, a lively commune home to the remarkable "Le Racou", a lovely beach over 5 km long, whose population of 10,000 swells to 130,000 in summer. "And yet, unlike nearby destinations such as the Spanish coast and Canet-en-Roussillon, the Côte Vermeille has managed to avoid unbridled urbanization," says Marie-Line Peral, manageress of Peral Immo, an agency based in Argelès for the past four years, covering an area as far as Les Albères (Céret...). For apartments, the price per sq. metre ranges from 2,500 to 3,000 € in old buildings, and is close on 4,000 € for new residences (with garages). For houses, prices vary considerably : "A small bungalow of about 60 m2 on an estate costs from 180,000 to 200,000 €. A terraced 2-bedroom villa also on an estate, 250,000 € ; a semi-detached villa with three bedrooms, 300,000 € ; and a detached villa with three bedrooms, all on one floor, from 400,000 to 500,000 €. As for very high-end properties, they can attain 800,000 €". These prices are also subject to the property's proximity to the sea and its view. Marie-Line Peral's clients mainly consist of retirees or pre-retirees who have sold their homes in other regions to treat themselves to a main or holiday home in the sun.
You will also like