Beaulieu-sur-Mer, the price of bliss
Ideally located on the coast road from Nice to Monaco, with its sandy beaches, sumptuous parks and gardens, its famous Casino and harbour lined with renowned restaurants, Beaulieu is a highly privileged address on the Côte d'Azur.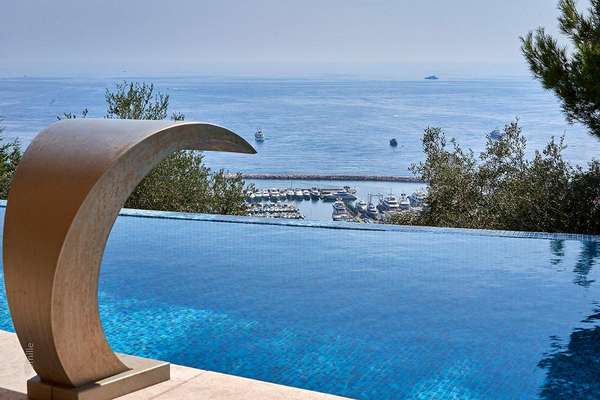 A sumptuous neo-Provençal villa of 400 m2, luxuriously renovated, in grounds of 2,900 m2 with an infinity pool offers this view of the sea, harbour of Beaulieu-sur-Mer, Cap Ferrat peninsula, Bay of Villefranche, and the nearby hills. 9.850.000 €. Côte d'Azur Sotheby's International Realty (04 92 92 12 88).
Based in Beaulieu since 1895, the Agence Générale Bovis was founded by Joseph Bovis, one of the town's leading architects. Run by the same family for 124 years, it is now managed by Jessica Bovis who follows in the wake of two previous generations, and is pursuing the international development of this firm specializing in sales, rentals and property management in an area stretching from Mont Boron in Nice to Cap d'Ail. While offering a well-balanced portfolio of properties ranging from pleasant studios at around 150,000 € to large properties worth over 5 million euros, Jessica Bovis also orchestrates prestigious, confidential off-market transactions for properties not posted on her communication networks. "Some clients require a high level of discretion and specialized skills that we are capable of providing." Very buoyant, the market nevertheless suffers from a scarcity of availabilities in the face of very steady demand from an affluent French and foreign clientele mostly looking for second residences, joined by a few buyers living or working in France or Monaco. "They all appreciate the living conditions of undeniable quality to be found here, and all the amenities and services ensuring a practical lifestyle," says Jessica Bovis, who confirms having chalked up very good results in 2018 and says that 2019 looks to be even better. "Thanks to our reputation, we are lucky enough to be entrusted regularly with properties in Beaulieu." By way of exemple, she mentions a studio benefiting from a terrace of 10 m2, priced at 220,000 €, a sumptuous, renovated 2-bedroom apartment overlooking the harbour, at 950,000 €, and a spacious apartment of almost 120 m2 with a terrace, balcony and parking place in the town centre, proposed at 780,000 €.
"Beaulieu is definitely a market mainly comprised of second residences. Today, the majority of the sales we handle involve a wealthy foreign clientele, Scandinavian and Parisian in particular, looking for a property which could become their permanent home when they retire," says Paul Hosier of Côte d'Azur Sotheby's International Realty, based in Beaulieu for 12 years. Undergoing significant expansion, this flagship name in prestige real estate has doubled the staff in its Beaulieu agency and intends to open a new address soon at the heart of Nice. "While offering high quality, supply does not meet demand. Charming "Belle Epoque" villas in the town centre are rare, fetching prices from 3 to 7 million euros, while villas and large properties on Boulevard Edouard VII, offering stunning views of the sea, are rarely priced below 4 million euros and can attain 13 million euros. Beaulieu has kept tight control over its urban planning, giving it all its charm. So when a new development is approved, it meets with instant success." As evidenced by marketing of the Villa Cypa, a very prestigious development with a pool and luxury appointments at the very heart of Beaulieu-sur-Mer. Consisting of 12 apartments, it will be delivered in September : only two properties are still available, including a split-level apartment reached by lift, comprised of 3 en-suite bedrooms, a large lounge and fully equipped kitchen. Its future owners, who will have to part with almost 3 million euros, will also benefit from a terrace of 80 m2 facing due south, and two garages in the basement.
You will also like