Avignon and its perimeter : a varied and attractive market
A tourist venue playing host to one of France's most beautifully preserved architectural heritages, Avignon is surrounded by a pleasant, lively environment. Properties here offer a varied choice and relatively steady prices.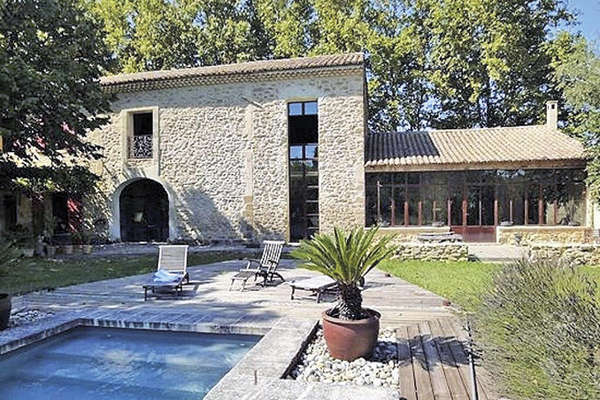 In Entraigues-sur-la-Sorgue, this property offers total living space of almost 450 m2 in over 7,800 m2 of grounds with a pool. 1.220.000 €. Cabinet House & Co (04 90 82 69 82).
Avignon is an internationally renowned destination, above all for its remarkable architectural heritage. The magnificent Popes' Palace (the largest Gothic construction built in the Middle Ages), the ramparts dating back to the 16th century, Le Rocher des Doms, L'Hôtel des Monnaies and the legendary Pont d'Avignon (real name : Pont Saint-Bénézet, 12th-C.) all contribute to well-deserved classification in UNESCO's World Heritage. Though the "Papal City" also draws thousands of visitors every year to its famous "Festival d'Avignon", France's most important event focusing on the theatre (its 69th edition will be held from July 4th to 25th this year). For a town with 90,000 residents, cultural and artistic life here is incredibly rich (numerous theatres, cinemas, exhibitions, art-galleries...). Avignon's other assets include a pleasant Mediterranean climate, the countryside close by, a central position and well-developed transport infrastructures (A7 and A9 motorways, TGV station and international airport).
"Confronted by high demand, the property market thus posts steady prices, which is not necessarily the case elsewhere in the Vaucluse," says Luc Boissel, associate manager of L'Immo du Particulier, an agency in Avignon charging reduced fees (4.50 % including VAT with a guaranteed minimum), part of which is donated to the "Ligue contre le Cancer 84". "In the case of apartments, the average price in Avignon is about 2,000 € per sqm. In the working-class neighbourhood of Monclar, it starts at 500 €. Otherwise, exceptional properties within the walls with outdoor areas and parking facilities can attain 4,000 € per sqm." By way of example, a studio will cost almost 70,000 € intramuros, and approx. 50,000 € on the outskirts. "The price per sq. metre for houses is around 2,000 € in the independent neighbourhood of Montfavet (5 km from the town) and the neighbouring communes of Morières-lès-Avignon, Vedène and Saint-Saturnin-lès-Avignon. As for building plots, very limited in number, prices range from 200 to 350 € per sqm." Luc Boissel's clientele is comprised of young first-time buyers, executives aged 30 to 45, retirees and investors. "Avignon intramuros is in fact a particularly interesting market for rental investments."
Director of Le Cabinet House & Co, a member of the FNAIM created in 2014 and sharing a customer file with 106 agencies in the PACA region (via the Groupement National Immobilier), Jonathan Le Corronc Clady handles all the problems associated with real-estate projects (sales, rentals, management companies, but also financing, architecture, renovation, asset management...). He describes a wide array of possibilities : "In Avignon, apartments sell from 58,000 € for 1 main room, and up to 600,000 € for 4/5 main rooms within the city walls. For houses, one can expect to pay about 180,000 € for a home outside the ramparts, 350,000 to 500,000 € for a more substantial house, also extramuros, and from 500,000 to over 1 million euros for an elegant property intramuros". Available building land is beginning to become rare, because of the town's geographic characteristics (ramparts, the presence of the Rhône and Durance rivers...) : "A plot of under 600 m2 will thus cost around 85,000 €". According to Jonathan Le Corronc Clady, these prices now indicate a relatively stable market. "Our clientele is mainly composed of members of the local working population, with the holiday home segment accounting for only 2 % of sales. We see many first-time buyers and sale/repurchase operations. Though we also receive enquiries about more specific properties, such as a private mansion of over 700 m2 in a park of approx. 5,000 m2, recently acquired by investors in Le Grand Avignon for almost 1 million euros."
These properties "offering generous surface areas and gardens are usually converted into B&B guest-houses or self-catering apartments," adds Lucie Clap-Botton, manageress of Côté Sud Côté Rêve. Backed by 20 years of experience of the market in Avignon, she founded her own agency in 2008, specializing in middle- and high-end properties intramuros, and on the neighbouring communes of Villeneuve-lès-Avignon and Les Angles (in Le Gard) : "Properties within the city walls, where prices are around 2,500 € per sqm, appeal especially to Parisians who come here to retire in the sun, many more of them since the introduction of the TGV in the year 2000. Young couples without children also look for a pied-à-terre to attend the Festival". Families find what they need in the highly residential Villeneuve-lès-Avignon and Les Angles : "Here one can find comfortable houses with gardens and often a pool, from 500,000 €. For example, we are currently offering a single-storey villa of over 150 m2 in Villeneuve, with 4 bedrooms, a garden of 700 m2 and a pool, priced at 655,000 €". A few new developments are also available in this area across the river. "A prestigious estate comprised of two villas and apartments is, for instance, currently being marketed in Les Angles at 5,000 € per sqm."
You will also like