Avignon : an ancient stronghold
A fortified medieval town, home to festivals and at the gateway to the Provence-Alpes-Côte d'Azur region, the Popes' City benefits from a direct TGV connection with Paris which is drawing a rising number of buyers.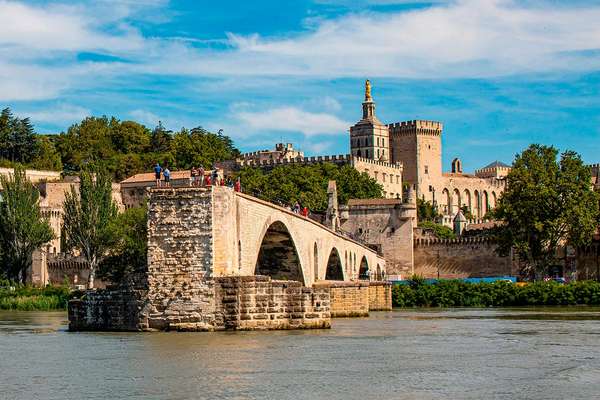 The capital of prestigious festivals, the Popes' City has succeeded in preserving all its historic charm.
Founded in Paris in 2008 and now comprised of 40 agencies in France, Espaces Atypiques addresses a clientele in search of original properties. Since 2016, Espaces Atypiques Avignon-Luberon has been managed by Laurence Lavandier for the region of the Vaucluse. "Long looked upon as a niche market, contemporary and unusual properties are the subject of demand that has continued to rise steadily over the past 10 years. We propose properties of character, renovated or in need of renovation, which have a soul. We make a rigorous selection of the addresses we offer for sale, to meet the expectations of demanding clients looking for homes corresponding to their lifestyles." Clients of Espaces Atypiques have a pronounced taste for architecture and design, originality and beauty. "We are seeing a turnaround in the market in Avignon : once very generous, offerings intra-muros have become rare, resulting in higher prices. So-called classy neighbourhoods such as La Banasterie and Vernet are still seen as sound values, while the Thiers and Carreterie areas are drawing an increasing number of buyers." With an average budget of 400,000 €, the agency's clients are in search of properties with exclusive features - top floors, outdoor areas, quality renovation - or old properties offering good potential for renovation. "This year, the average price of our sales intra-muros was around 2,850 € per sq.m, though prices posted inevitably give rise to negotiation, giving the market a certain stability."
Specializing in sales since it opened in 1975, Immo 2000 Gestion also handles rentals and property management under the direction of Robert Urtis. "In Avignon, most demand focuses on apartments intra-muros, though on neighbouring communes in Le Gard, we proposes lots of villas whose prices decline the further they are from the city : first-time buyers can acquire a 2- or 3-bedroomed villa here with a garden of 400 m2 at prices ranging from 180,000 to 250,000 €." After a period of decline, prices have stabilized, and even risen in certain neighbourhoods intra-muros, such as the Balance neighbourhood, La Place des Carmes and Place Saint-Didier, now meeting with fresh enthusiasm since their refurbishment. "Over the past two years, records have been beaten in terms of sales volumes thanks, of course, to enticing borrowing rates, but also due to the fact that bricks and mortar offer a safe haven more than ever before, in the eyes of investors."
Managed by Lucie Clap, the Côté Sud Côté Rêves agency specializes in sales of properties in the middle and upper end of the market. "Our clientele is mainly comprised of retired Parisians looking for practical apartments in Avignon intra-muros - with lifts, parking places and outdoor areas - the latter with an average budget of 500,000 € which can attain 1 million euros for certain properties with exclusive appointments, and rental investors in the case of entire buildings and private mansions." Since 2008, prices have risen by 7 to 8% with available properties becoming more scarce. "We are now seeing an average lead time of three months." Following restrictions imposed by the Town Hall of Paris on accommodation rented out through Internet platforms, a good number of Parisian investors have set their sights on Avignon : all the town's private mansions which were available over the previous few years were sold in 2019. "In addition to investment properties, we are also selling more and more pieds-à-terre priced from 200,000 €, which appeal in particular to a clientele wanting to attend the city's festivals." If interest rates remain at these record lows, the market in Avignon will remain highly favourable for sellers who are seeing increasingly strong demand from buyers from different horizons, all falling for the charm of this very appealing historic town.
You will also like