At the heart of the Massif de La Vanoise
Between the valley of L'Isère and La Tarentaise, the National Park of La Vanoise covers a territory comprised of 29 communes including Bozel, Champagny-en-Vanoise and Pralognan-la-Vanoise. Village resorts offering well-preserved charm and authenticity.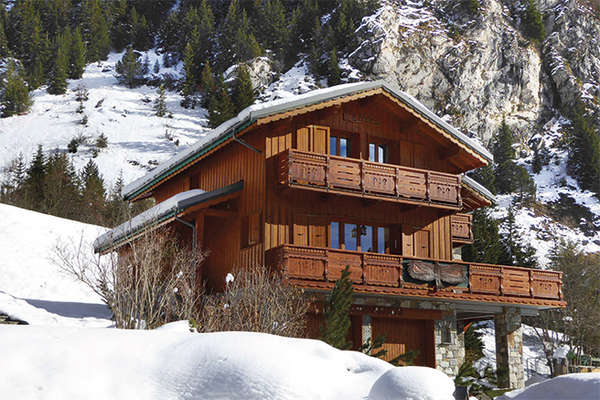 In a garden of 639 m2, this chalet offering 7 main rooms benefits from an ideal location in a quiet residential area in Pralognan. 850.000 €. @gence.com (04 79 01 40 94).
Popular among a French clientele with families, Pralognan-la-Vanoise is a perfect village blending protected nature and authenticity in Savoyard style. Set in the midst of the National Park of La Vanoise, surrounded by the mountains of Savoy, Pralognan proposes, in addition to skiing, a wide choice of activities that appeal to all generations in all four seasons.
"Most of our buyers are looking for 1- or 2-bedroomed apartments ranging from 150,000 to 250,000 €. Depending on their condition and location, apartments are pegged from 3,800 to 5,000 € per sq. metre," explains Valérie Masson, an expert on the area since 1991, and manageress of @gence.com for the past eight years. Proposing sales and acquisitions, holiday rentals, and since recently, a conciergerie service, the agency has just opened a branch in Bozel. "Overall, the market is pretty active. Last year, we handled about 30 sales, ranging from pied-à-terres to very comfortable chalets, like one that recently sold for 850,000 €. Most of the chalets on offer from 500,000 to 850,000 € are, however, drawing less interest than apartments." What about new properties ? Thanks to a few successful rehabilitations, it has been possible to offer homes meeting today's taste, such as those in the former post-office, right in the centre. Now known as "Le Chalet d'Auguste", this residence consists of five apartments, one of 55 m2 which is still available, with 2 bedrooms, priced at 279,000 €. A large village house has also been transformed into a charming residence called "Le Grand Chalet". The prices of its 13 apartments, mostly with 2 or 3 bedrooms, range from 300,000 to 350,000 €.
In the Vallée du Doron facing the majestic Grand Bec, Bozel is a pleasant village with slightly over 2,000 residents. A series of little hamlets illustrate the ancestral way of life, dependent on farming and breeding. Playing host to primary and intermediate schools, and shops open year-round, this commune known for its generous sunshine draws French and British buyers in search of both holiday and permanent homes. Especially as Courchevel can be reached from Bozel in about 20 minutes on a free shuttle bus. RMP Immobilier, an agency specializing in the Vallée de Bozel, proposes diverse properties including chalets, apartments, and rehabilitated barns. "From studios in Champany-en-Vanoise on offer under 100,000 €, to luxury 4-bedroomed chalets priced from 500,000 €, and 2-bedroomed apartments near the ski-runs from 200,000 €, the choice is very varied. Just like the profile of our buyers, whose only point in common is a love of the mountains," says Sarah Denney, manageress of this agency based at the heart of the village.
You will also like