At the gateway to Monaco : soaring demand
The Covid crisis has led to a surge in the number of buyers looking for properties with exclusive amenities, joined by a foreign clientele now free to cross borders.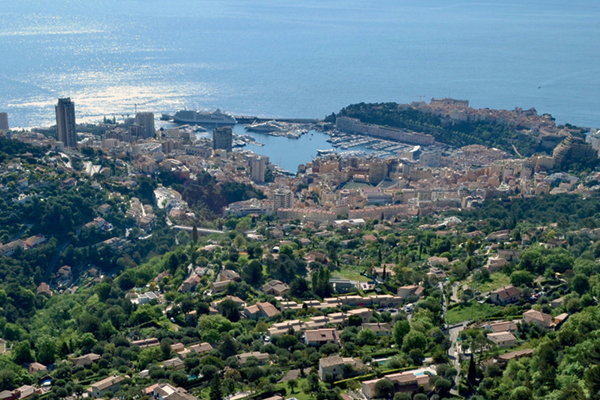 Like a balcony high up above the Mediterranean, Beausoleil overlooks the Principality of Monaco.
With two branches in Menton and Roquebrune-Cap-Martin, the Agence Edouard VII handles sales, rentals and rental management, providing clients with service in French Italian, English and Spanish. Specializing in sales, Thomas Kalies notes marked enthusiasm on the part of buyers for large apartments with terraces and villas with gardens enjoying views of the sea. "Depending on locations and the level of appointments offered, villas can be found from 1.5 million euros. This price can be multiplied by three or four in the case of the most exclusive properties. As for apartments, by way of example, we recently sold a penthouse of 98 m2 for 850,000 € at the entrance to Monaco. On the Domaine du Cap, in Roquebrune-Cap-Martin, some properties attain several tens of millions of euros." Thomas Kalies says that the health crisis has led to a significant rise in sales volume, largely depleting stocks. "Faced by strong demand, the number of properties available is proving to be insufficient. Yet prices have not risen. The number of clients from abroad has dropped, though that of Monaco residents is rising : these buyers are searching for both main and second residences, but also rental investments. The lifting of Covid-related restrictions has already led clients to return to estate agencies, and bodes well for a rapid resumption of activity."
Under the management of Aurore Perard, the Agence Régionale in La Turbie focuses on sales, rentals, property management and surveying in Monaco and its neighbouring communes. "The majority of our clients are local buyers. Since the first lockdown, demand has been concentrated on houses with gardens. Given the rarity of such offerings, sellers tend to raise their prices, though buyers turn out to be very well-informed about the market. In the current context, many owners of this kind of home are hanging on to them, to benefit from them with their families." In short, offers are becoming rare, yet prices remain stable. At the gateway to Monaco, the communes of Cap d'Ail, Beausoleil and Roquebrune-Cap-Martin are very sound values. Even so, buyers are now prepared to consider more distant addresses such as La Turbie and Saint-Martin de Peille, even beyond Peille. "Previously, the trend was to acquire a small surface area near the sea, which could be rapidly resold should the need arise. Henceforth, comfortable houses benefiting from gardens are the "in" thing, even if they are further from the coast." In La Turbie, Aurore Perard quotes average price ranges from 300,000 to 500,000 € for apartments, 800,000 to 1.2 million euros for houses. On the market for new properties, the rarity of building land restricts availabilities to detached, or semi-detached, houses and small estates. "All said and done, the health crisis has demonstrated the resilience of the local market. Prices are holding steady. Rare offerings put a brake on turnover, though sales go through in short periods of time, bearing witness to the dynamism of real estate in the immediate
area around Monaco."
You will also like