Ascain, a village at the foot of the Rhune
With its typical Labourdine and Basque architecture, this leafy village is crossed by the Nivelle and overlooked by three mountain peaks : Bizkarzun, Esnaur and La Rhune. It is 7 km from Saint-Jean-de-Luz, on the border with Spain.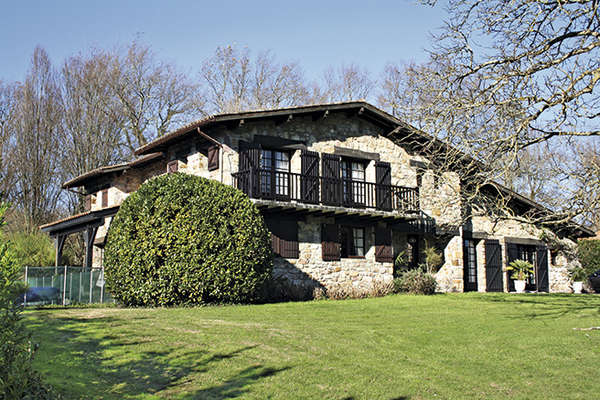 Offering a view of the Rhune, this villa of 280 m2 benefiting from a pool is 3.5 km from the Ciboure golf-course. 790 000 €. Agence Louis 14 (05 59 54 14 14).
Occupying an area of 4,760 acres just six km from the Atlantic coast, Ascain is a charming rural commune which has succeeded in maintaining its authenticity. Split into seven neighbourhoods, the village is known for the elegance of its traditional houses with white walls clad with exposed timber painted red or green. Once an agricultural commune, Ascain still has numerous farmhouses – rehabilitated or not – scattered around the countryside. It has 4,200 year-round residents.
"After seeing declining prices since 2012, Ascain can now claim to have a stable, well-balanced market. Many houses of quality can be found here at prices under 1 million euros," says Emmanuelle Hirrigoyen, who took over the Victoria Immobilier agency in Biarritz in July, 2015. "We offer properties of quality ranging from studios to large residences in Biarritz, Anglet, Ciboure, Saint-Jean-de-Luz and Ascain. Ascain is an address known for its art of living - a peaceful commune which is nevertheless lively all year round. The sales we handle here involve both permanent and holiday homes." By way of example, she mentions a fully renovated farmhouse at the entrance to Ascain. Offering living space of 300-350 m2, this charming property with a double reception room with fireplace, 4 bedrooms and 3 bathrooms, is completed by an independent 2-bedroomed apartment. Set on 2.5 acres of wooded land offering beautiful views of the Rhune and Nivelle, it is on offer at 890,000 €.
"The drop in prices over the past few years has indeed sparked the interest of potential buyers," says David Plumeau of the Agence Louis 14, based in Urrugne and specializing in properties of sound quality and charm. "The market is definitely livelier. Our clients have realised that genuine opportunities should not be missed on this quiet residential commune with its lovely villas and traditional houses with good-sized gardens." Among the appealing properties he is currently offering for sale, David Plumeau mentions a stone house of 240 m2 whose building materials came from an authentic Labourdine farm. Set in grounds of 3,300 m2 and benefiting from a pool, it enjoys beautiful views of the Rhune and is only 3.5 km from the Ciboure golf-course. Priced at 790,000 €, it certainly gives some of the clients targeting Saint-Jean-de-Luz something to think about. "Mostly French, our clients appreciate the environment and charm of this commune nestling at the foot of the Rhune. And the proximity of the beaches of Saint-Jean-de Luz and Ciboure is certainly an added attraction."
You will also like