Argelès-sur-Mer, Collioure and Céret, popular addresses in the Pyrénées Orientales
Between the coast and inland area, these three communes appeal to locals but also, and above all, to French and foreign holiday-makers who appreciate the climate and environment.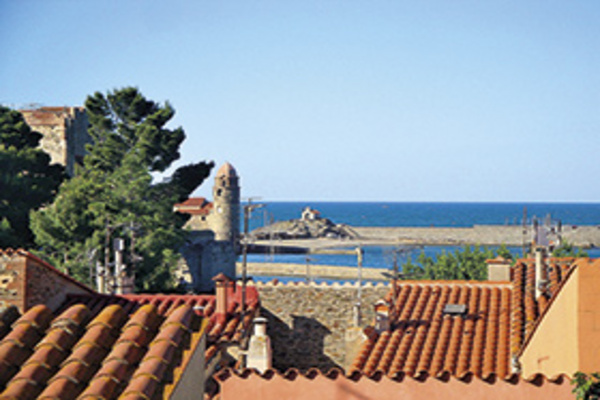 In Collioure, this village house awaiting renovation consists of several studios totalling 100 m2 on 2 floors, with a convertible attic of 60 m2. 350.000 €. Agence Py (04 68 82 04 97).
Since the early 20th century, population figures for Argelès-sur-Mer have in fact risen constantly. The town has expanded on a regular basis, between the village, beach and plain, in the shadow of the Massif des Albères. The most recent survey, in 1999, reported an additional 2,000 inhabitants in hardly 9 years. And in summer, thousands of tourists flock to this address offering a wide variety of attractions. For Argelès-sur-Mer is a sandy beach 7 km long, overlooked by the Massif des Albères, a pine forest of almost 30 acres on the seafront, a leafy promenade 3 km long, a harbour and an authentic village 2 km from the water's edge. The locals talk about "Argelès plage" and "Argelès village". The area facing the sea is the most highly-prized : Le Racou, meaning "corner" in the Catalan language. Here one finds small fishermen's houses of 40 m2, directly on the sand, priced on average at 250,000 €, together with holiday apartments and houses (5,000 €/m2 for the first, 6,000 €/m2 for the second). These properties are mostly of interest to a French clientele, very fond of the region, and a few north Europeans. By way of example, an apartment of 36 m2 with a terrace of 8 m2 recently sold for 189,000 €, while a semi-detached house of 46 m2 with a garden of 50 m2 is looking for a taker at 283,000 €. In the 1960's/1970's, apartment buildings took their place on the beach to the north, towards Saint-Cyprien. Today, a studio of 17 to 19 m2 costs from 55,000 to 60,000 €, a 1 bedroomed apartment of 26 m2 from 85,000 to 90,000 €. More recent properties bear price-tags of around 3,000 to 3,400 €/m2. New developments are, however, becoming rare, and when one does appear on the market, it soon meets with success, especially if it is on the front row, despite soaring prices ; a high-class development currently under construction proposes apartments at 5,000 €/m2.
The village and Taxo are 2 km from the beach. Out of favour for the past few years (because of their lack of terraces or parking facilities), village houses, mostly on 3 floors, no longer sell if they are offered at prices above 1,500 €/m2. Fans of old stones prefer to spend more, around 2,000 €/m2, for well-appointed apartments in privileged locations ; such as this example of 80 m2 with parquet floors and a view of the market place, priced at 159,000 €. Taxo, Avall and Amont belong to different communes, Taxo d'Avall being a "lieu-dit" of Argelès. The château, or rather its carefully preserved ruins, attest to the existence of the original village. For Taxo d'Avall, the 21st century is synonymous with intense development ; the urban development plan in fact aims at gradually linking the neigh- bourhood with Argelès and building shopping centres and a secondary school. Families are keen to buy houses on secure estates. A recent home of 140 m2 with a garden of 2,000 m2 and swimming pool can be had for 550,000 €. Another of 180 m2, built in the year 2000, also with grounds of 2,000 m2, costs the same price. The area has very few large properties. Recently, however, a "mas" split into 5 apartments sold for 800,000 €. "The market for standard homes, which seemed to have run out of steam, is now seeing an up-turn," comments Christophe Roux of Argelès Immobilier. "Clients with budgets ranging from 500,000 to 800,000 € invest in stone properties whenever they can find them, safe havens in the face of all kinds of adversity."
Eleven km from Argelès and 26 km from the Spanish border, Collioure is regarded as one of the gems of this rocky coast. Matisse adore the place, writing about the little Catalan harbour : "There's no sky bluer in France than that of Collioure. I simply have to close the shutters of my room and I can see all the colours of the Mediterranean here in my home." The highly sought-after Mouré neighbourhood offers fans of authenticity narrow, flower-filled streets, painted by Matisse, with fishermen's or village houses. Their price per sq. metre ranges from 5,000 to 8,000 € as soon as they enjoy a pretty view and quality appointments. Most of the buyers are French, some of them pre-retirees. The same goes for the town centre, where the majority of houses are second residences (4,200 to 4,500 €/m2). The surrounding neighbourhoods propose houses of classic architecture (3,500 to 4,000 €/m2), also mostly acquired as holiday homes. A renowned seaside resort, Collioure has a very busy summer season and a very buoyant market for seasonal rentals : a studio rents for about 400 € per week, a 1-bedroom apartment from 550 to 600 €, a 2-bedroom apartment 750 to 1,000 €, and a house from 1,000 to 1,300 €. "Clients for rentals, like those for acquisitions, are mainly French and the typical profile is a family with two children. We do, however, also have a few English and Swiss clients," says François Py of the Agence Py.
Further inland, Céret is known for its Museum of Modern Art, its bull-fighting tradition and its cherries. Many artists have stayed here : Picasso, Braque, Soutine, Max Jacob. If you're looking for an apartment or village house, you'll need a budget of 150,000 to 250,000 € ; 250,000 to 350,000 € for a villa. A property offering a pleasant view starts at 500,000 € and can rise to one million euros. "The market for village houses costing around 200,000 € is currently pretty active. They appeal to the locals, but also Belgian, Norwegian and English-speaking clients in general," says James Edgecombe of the Real Estates agency. Long-term rentals are sought by young members of the working population and people from outside the region, wanting to test it out before deciding to invest. They pay from 550 to 600 € per month for apartments with 2/3 main rooms.
Quiet at the beginning of the year, the market for sales is beginning to pick up a little. Estate-agents remain optimistic for two main reasons : everyone needs a home and this particular region lacks neither interest nor appeal.
You will also like