Arcachon's charming and exclusive Ville d'Hiver
Listed as one of France's historic landmarks in 1985, this neighbourhood on the hills of the town plays host to traditional "Arcachonnaise" houses, but also more than 200 remarkable villas.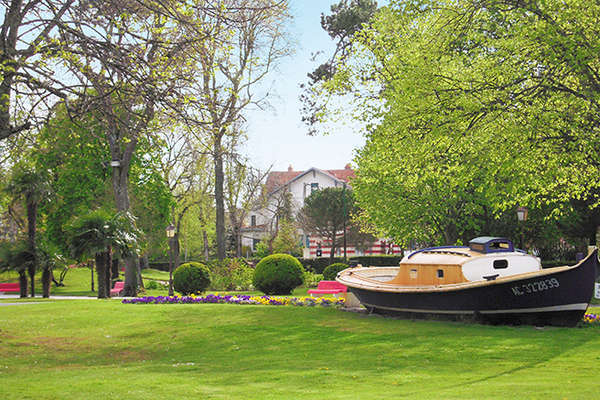 On the hills of Arcachon, La Ville d'Hiver reveals a unique architectural legacy and a very lovely natural environment, including this 10-acre Moorish park.
In the early 1860's, bankers Emile and Isaac Pereire built La Ville d'Hiver which now invites us to discover an authentic neighbourhood sheltered from the bustle down on the beaches. The area's so-called "picturesque" villas offer many architectural styles whose diversity explains its charm. In neo-classical, neo-Gothic, colonial, Moorish style..., they remind us that this address was a favourite winter rendez-vous among European aristocrats. The Villas Faust, Marguerite (with its decorative lattice work), Graigcrostan (recalling Scottish manor houses) and Madeleine (where Gustave Eiffel often stayed) still appeal to buyers in search of authenticity.
Sophy Vaissié, a partner with Barnes for the Bassin d'Arcachon, talks about a "niche" market. "These villas built at the end of the 1800's are still exceptional and very original properties, benefiting from generous living space, from 300 to 500 m2, on two or three floors. Renovation of their exteriors has to be approved by an architect from Les Bâtiments de France, though owners are free to play with their indoor volumes, use modern materials and thus create living space more in keeping with modern life." Witnesses of bygone times, these very charming villas attract "active" families, mostly from Paris or Bordeaux (Paris is 3 hrs 30 away by train, Bordeaux 50 minutes), retirees, mainly French, who spend six months of the year here, and finally ex-pats working in Singapore or Dubai, and wanting to invest here. In all cases, they are people looking for precisely this kind of property. They will feel drawn to the Ville d'Hiver neighbourhood, and the property's past. These acquisitions are based on sentiment. Though "love at first sight" can cost from 1 to 3 million euros, with buyers very often obliged to undertake renovation work. "Backed by our experience and expertise, we assist our clients - if they so wish - with their rehabilitation plans. They appreciate guidance in this process, which sometimes proves to be rather complex."
Renowned for these romantic, and even Romanesque, residences, the Ville d'Hiver neighbourhood also offers large villas with typical Arcachon architecture, built in the 19th century. Characterized by outside walls clad with brick, porches often supported by pillars, gables more or less richly decorated, they offer two or three floors. "It is not rare for these lovely buildings to be split into apartments following successions, thus becoming co-owned properties," says Anthony Itey of Synekwanon Immobilier. In a listed area, they have to preserve their special features and are therefore subject – like historic villas – to the approval of architects from Les Bâtiments de France and the municipality. On average, they are comprised of 5 to 6 lots with surface areas ranging from 50 to 130 m2 or more, and sales prices from 300,000 € to 900,000 €. It is not rare for one of them to attain 1 million euros, if it benefits from generous proportions and a view. Owned 70 % by Parisians who make them their holiday homes, these apartments also accommodate local residents.
Jean Duboscq, manager of the Immobilière Duboscq agency, stresses the well-preserved and "insider" aspects of La Ville d'Hiver, one of Arcachon's "Four Seasons". "In addition to well-known late 19th-C. Arcachonnaise houses, it is worth noting Art Deco homes which are also remarkable, and rare. They are not so tall, usually comprised of one or two floors, with more modern design and comfort." Built from 1926 to 1930 by Roger-Henri Expert, one of the greatest architects of the day, the Villa Kypris is a perfect example with its imposing pilasters, pure and simple lines. "There is high demand for this type of property," adds Jean Duboscq. An English colony resides around these luxuriant gardens, as well as Parisians in search of peacefulness in which to enjoy their retirement. Due to maintenance costs, large buildings are transformed into apartments. When leaving the hillside of La Ville d'Hiver, residents descend, by lift, to the area called La Ville d'Automne, heading for the shops and lovely beaches. This area also boasts large old houses and prestigious new apartments, highly sought-after when on the front row ; comparable to those in Paris, prices are close on 11,000 € per sq. metre, with parking places and terraces.
You will also like