Apartments in Perpignan, a lively market
With its Catalan culture, the capital of the Pyrénées-Orientales serves as a link between the Iberian peninsula and southern France. Perpignan's greater urban area is home to 280,000 people, and the town itself with 116,000 residents is the third largest in Languedoc-Roussillon.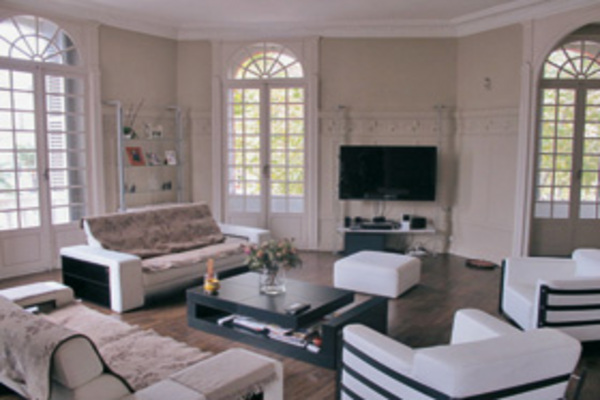 In a handsome building on the quaysides, this renovated apartment offers living space of 212 m2. 708.750 €. Must Immobilier (04 68 51 43 43).
After Montpellier and Toulouse, this town with its very pleasant life-style chalks up population figures boasting the third fastest growth in in the country. Situated between the Pyrenees and Les Corbières, 13 km from the Mediterranean, the town, crossed by the River Têt, has expanded over the years, gradually incorporating out-lying villages. It covers 13 km north to south, 12 km east to west. The mountain chain of Les Albères marks the border with Spain with Le Pic du Canigou rising to an altitude of 2,784 metres. The very extended city centre features Catalan houses three to five floors high, painted in yellow, orange or maroon, with red roof tiles. Haussmann buildings dot Boulevard Clémenceau and the area immediately around the railway station, while buildings with five to eight floors embellish the boulevards surrounding the old part of town. The river separates the northern neighbourhood of Le Vernet from the historic centre. Le Moulin à Vent was built to the south in 1962 to house people repatriated from Algeria. This locality has all the shops and amenities required by its residents for everyday life. A junction for main roads, it also hosts the commercial zone of La Porte d'Espagne and the Saint-Charles international market, Europe's largest platform for fruit and vegetables. Focusing on metallurgy and the agri-food business, the area is home to L'Espace Polygone Nord (over 400 SMEs and SMIs), Technosud (the service sector, research laboratories and firms specializing in high technology) and Torremila (industries, healthcare and social institutions).
"The historic centre is still one of the neighbourhoods most sought-after by fans of apartments," says Nathalie Huc of Immobilière Nicole Huc. Spacious interiors, high ceilings, fireplaces and decorative moldings are common features, though one has to forego terraces, elevators and parking facilities. Fifty year-olds seek-ing a quality life-style and pedestrian access to all amenities pay from 1,600 to 2,500 €/m2, depending on the apartment's condition. The Place de Catalogne and the immediate surroundings of the station offer both old buildings and new, fully-appointed residences. Capable of paying 3,000 €/m2, retirees tend to prefer the comfort of modern housing. On the outskirts, Saint-Martin, Las Cobas and Saint-Assiscle are under-going appealing urban development combined with the arrival of shops : these neighbourhoods meet the needs of families who pay 1,500-1,700 €/m2 and are happy to ben-efit from the presence of schools and good public transport services. Then, 800 apartments are being built in Porte d'Espagne, intended as main homes and for rental investments. Le Pont Joffre, leading to the Middle and Lower Vernet neighbourhoods, is regarded as a symbolic barrier. The second of the two suffers from many preconceptions, often not really justified, and despite reasonable prices, ranging from 1,300 to 1,600 €/m2. If Perpignan is one of the most affordable cities in the south of France, the prices displayed are still quite high. "Sales are only completed following tough negotiations," concedes Nathalie Huc, who readily admits to achieving 80 % of her transactions thanks to senior buyers from outside the region.
Of the last ten transactions handled by Cécile Baco of Must Immobilier, five consisted of rental investments. Investors pay 45,000 to 100,000 € for small 1-bedroom apartments. One such example of 40 m2, fully restored and ideally located, has just been acquired by a client for 76,000 €, to be rented out at 400 € per month. Old apartments at the heart of Perpignan, in Saint-Assiscle or in residences with reasonable charges to the south-east bring net income above the 3-4 % usually obtained in the case of new apartments. Experienced investors hope for 6-7 %, a level now hard to obtain. The choice between the resale market and new developments also depends on the buyer's requirements in terms of tax advantages. In residential areas, budgets can attain - admittedly on rare occasions - 800,000 €, the sum required for living space of 330 m2 on the top floor on Cours Lassus, with a private elevator and three terraces. Most transactions are, however, concluded between 120,000 and 300,000 €. Among her recent sales, our estate-agent cites an apartment of 120 m2 in good condition, opening out to an exterior of 60 m2, for 215,000 €, and another of 70 m2 with terrace and garage in a residence freshly risen out of the ground, acquired by a retiree from the Parisian region for 285,000 €. Sixty year-olds prefer to treat themselves to good addresses in urban areas, including the docks, Cours Lassus and Cours Palmarole, than to burden themselves with garden maintenance.
"For the past eight to ten months, 30 % of clients looking for apartments have been retirees or employees transferred from other parts of France, wanting to be closer to town centres without sacrificing comfort and amenities such as lifts and parking facilities," says Frédéric Malquier of the Agence du Soleil. They demand large surface areas and refined appointments. The top end of the market starts at 400,000 €. Apartments from 600,000 € upwards compete directly with the villas in Le Mas Vermeil and Le Mas Llaro. One-third of the market in fact consists of young first-time buyers looking for apartments of 60-70 m2, priced from 150,000 to 200,000 €, at Saint-Gaudérique, Saint-Julien and Le Clos-Banet, neighbourhoods more easily accessible and close to main roads. Finally, 40 % are searching for rental investments, with a good return in the centre or Scellier scheme advantages in the southern part of town. "A 2-bedroom apartment of 51 m2 with a terrace of 7.5 m2 in the "Jardins d'Espagne" currently costs 151,500 €. The rent is guaranteed at 572 € with a tax benefit of about 349 € per month."
You will also like