Antibes, a serene property market
Ideally positioned between Nice and Cannes, Antibes is a flagship town on the Côte d'Azur. An address offering both charm, prestige, a seaside resort, museums, a cultural commune and an international science park focusing on innovation, Antibes with its large harbour and world-renowned cape blends contrasts with long-accustomed ease.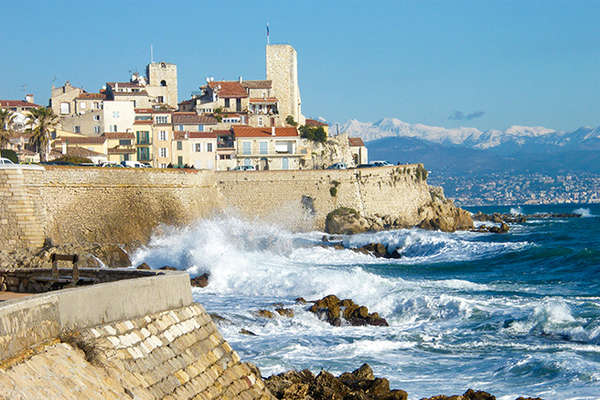 Built by Vauban in 1710, the ramparts of Antibes were originally a military undertaking to protect the town. Nowadays they are mainly used as part of tourist activities such as guided tours.
Antibes has long been the only major metropolitan area between Italy and Marseille. The only town on the coast to be surrounded by ramparts, it has succeeded in preserving a rich architectural legacy from each period of its past while pursuing its development with real panache. Its castle, bastion and city walls have now been transformed into museums, with many other historic treasures visible in the Old Town. A seaside resort acting as a host for festivals, Antibes is also renowned for its beautiful cape : a corner of paradise with fabulous residences and one of the world's loveliest hotels, the famous Eden Roc, at the tip of Cap d'Antibes.
Launched in 1990, JJC International was acquired in 2015 by three partners : Patrick Kinsella, Suzanna Huins and Jean-Michel Bodone. Specializing in sales and rentals of high-end properties in Antibes, on Cap d'Antibes and in Juan-les-Pins, this multilingual agency has a mainly international clientele – Italians, Scandinavians, English and Irish -, aged around 50 on average. "Most of the transactions we handle consist of holiday homes and rental investments," say Patrick Kinsella and his partners, whose portfolio consists of a wide array of properties ranging from studios at 150,000 € to exceptional residences pegged at around 25 million euros. "The most widely sought-after property is an apartment with sea view, ideally located in the neighbourhoods of La Salis, L'Ilette, Ponteil or in the Old Town of Antibes. For those interested in villas, Cap d'Antibes is still seen as a very sound investment." As an example of properties representing this flagship sector, our experts mention the recent sale of a new semi-detached villa, close to the beaches of La Salis. Facing south and benefiting from parking space for two cars, this 4-bedroomed house found a taker at 1,300,000 €.
Created on the Côte d'Azur 7 years ago by Scottish brothers Stuart andAndrew Pratt, Blue Square Immobilier launched a branch at the heart of the Old Town of Antibes 6 years ago. The multilingual team of about 15 shared out in the areas of Antibes and Juan-les-Pins, where Blue Square also has an agency, covers each nook and cranny of the commune's different neighbourhoods. "The Old Town of Antibes is highly-prized for permanent and holiday homes, but also rental investments," explains Cindy Fournier. "Our clientele is mainly English-speaking, though we also have French buyers. There is a satisfactory balance between demand and supply, especially for studios and 1-bedroomed apartments that we present from 200,000 €. Much rarer, houses on the remparts offering beautiful views of the sea range from 600,000 to 1,400,000 € or more, depending on their appointments." Apartments in outstanding locations are also to be found in the portfolio of this dynamic agency, as illustrated by a superb penthouse of 100 m2 facing Port Galice. It offers a panoramic view from Cap d'Antibes to the Lérins Islands from its terraces of 40 and 60 m2. Proposed at 1,650,000 €, it was recently
sold by Blue Square.
You will also like