Annonay, at the heart of the luxuriant Ardèche
This address in the Ardèche with 18,000 inhabitants reconciles town and country. In the case of the first, it offers a full array of shops and amenities. For the second, it invites you on a discovery trip in a hot-air balloon ! The French capital of ballooning, it has many other persuasive arguments, to which people working in the Rhône Valley are not indifferent.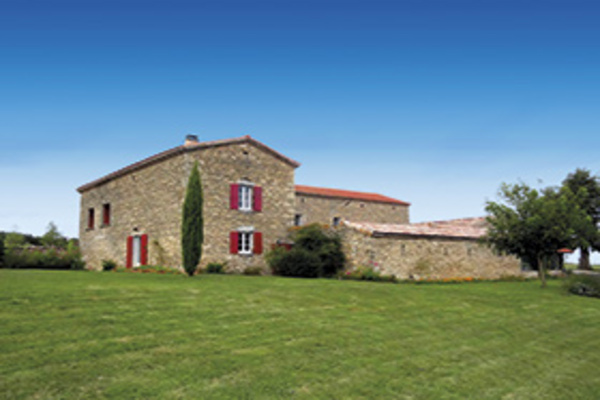 On the hillsides along the Rhône, between Annonay and Tournon, this property is comprised of two homes of 120 and 220 m2 respectively. It benefits from 14,500 m2 of flat grounds, an inner courtyard, outbuildings and a panoramic view of the Alps. 465.000 €. Annonay Immobilier. (04 75 33 43 70).
A number of personalities have left their mark on Annonay. Starting with the brothers Joseph and Etienne Montgolfier, or Marc Seguin, credited with the first suspension bridge, the tubular engine boiler and the first railway line. Surrounded by forests, the commune gives precedence to parks and gardens in a region shared by businesses, shops, markets and craftsmen. Set on seven hills at the confluence of two rivers, it organizes an annual fête celebrating flying and hot-air ballooning in commemoration of the flight of the first hot-air balloon made of paper, on June 4th, 1783. Leather tanning and the paper industry prospered in the 19th century, though the first fell into decline after the Second World War. For the past 15 years, the town has been treating itself to a facelift...
"This town with an industrial tradition is 35 minutes from Vienne, 40 minutes from Saint-Etienne, 50 minutes from Valence and Lyon," says Philippe Jean of Annonay Immobilier. "Buyers work in Annonay, hosting branches of Irisbus, Tetra Medical, Céréal and the Canson stationery firm, or in Vienne or Lyon, with work-oriented movements heading north to south." On this axis, the hillsides along the Rhône offer appealing value for money. With a budget of 200,000 to 250,000 €, one can find a "pavillon" of 100-130 m2 with a garden of 1,000-1,500 m2. The locals tend to pay 150,000 to 200,000 € for old houses or 1,000 €/m2 for apartments of the same age. Investors from large urban areas then set their sights on entire rental buildings. Recently, a client from Lyon paid 330,000 € for eight units with 2, 3 and 4 main rooms plus shop premises, bringing a return of 35,000 € per year, ie. 10 % gross. Starting prices are attractive, though it's wise to go for quality in order to be competitive on the rental front. The market for holiday homes is still active, though less so since the loss of foreign buyers put off by soaring prices for properties in the Ardèche. Small farmhouses of 100-150 m2 in grounds from 2,000 m2 to about 2.5 acres, priced from 200,000 to 400,000 €, still have fans among the French. This is undoubtedly the segment which has seen the sharpest rise over the past decade. Overall, the market can be said to be stable. Fairly estim­ated properties are finding takers.
"A distinction should be drawn between various sectors," add Sabine Forel and Ludovic Cordier of Eurosud Immo. "Highly-prized by people working in Lyon, the Annonay-Rhône Valley portion is becoming more densely populated. Houses here built from 1950 until the present day cost from 200,000 to 250,000 €." Areas that are less built-up to the west and south of the town propose a mixed bag of housing, comprised of more or less recent homes priced from 120,000 to 150,000 € in the first ring, affordable by the locals, and old farmhouses or atypical properties ranging from 150,000 to 400,000 €. The park of Le Pilat, a 15-minute drive on the mortorway heading towards the capital of the Rhône region, then attracts a clientele from Lyon in search of peacefulness, space, nature and privacy, whether it consists of a weekend and holiday retreat or a main home. This location is slightly more expensive than the previous one, though it offers a coherent ratio in terms of value for money. Since prices have declined, buyers have once again been able to find detached houses from 120,000 €. Often interested in building land, first-time buyers focus on the 120,000 to 180,000 € bracket, while local 40 and 50 year-olds can go up to 250,000 € after selling a previously owned home. Conversely, seniors part with their houses in outlying areas to acquire town houses, apartments or penthouses close to urban amenities. Freshly risen from the ground, high-quality residences that are comfortable, practical and in good locations are pegged around 2,500 €/m2.
You will also like