Annemasse, the go-ahead approach of a border town
On the border between France and Switzerland, lying south-west of Lake Geneva at the heart of the Greater Urban Area of Geneva, Annemasse is home to almost 35,000 residents, including many "frontaliers".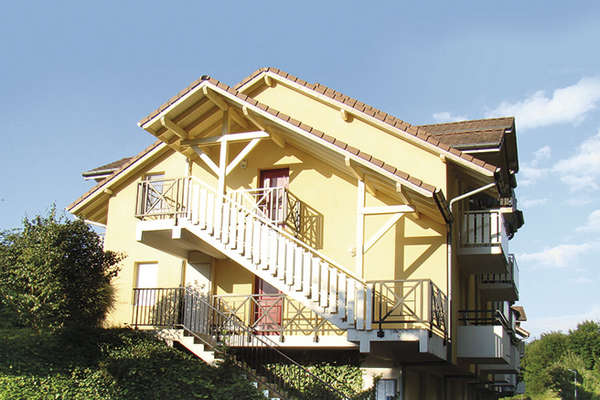 In a pleasant residence in Saint-Gingolf, this 2-bedroomed apartment (wtih garage) offers a view of Lake Geneva from its balcony. 190.000 €. Citya Valp'Immo (04 50 92 13 23).
The second most densely populated commune in Haute-Savoy after Annecy, Annemasse enjoys the very real advantage of being just 2 km from the canton of Geneva. Benefiting from a railway station and an efficient road network, the commune is looking forward to the introduction of the Leman Express (CEVA) in December 2019, which will serve as a link between the railway networks of the canton of Geneva and Upper Savoy. As an extension of the CEVA, a tramline called the "Tram Annemasse-Genève" will provide services between the centre of Annemasse, Gaillard, Ambilly and Geneva. Later on, this tramline will link Annemasse directly to Geneva in 25 minutes. Seeing in-depth alterations to the appearance of the area around the station - where the mun­icipality is also planning to build a business centre -, these neighbourhoods are gradually undergoing changes in their popularity ratings. In the centre, the creation of the Chablais Parc on a former 5-acre brownfield site is totally restructuring this neighbourhood and boosting its appeal.
Annemasse is also seeing a constant rise in its population figures with a cosmopolitan clientele comprised of many "frontaliers" (cross-border workers). Which results in strong and growing demand for properties at the gateway to Switzerland, especially in areas benefiting from fast and easy access to Geneva. "The image of Annemasse is changing very positively thanks to the creation of the CEVA line and the tramway. The town centre is in fact becoming increasingly attractive with the new Chablais Parc neighbourhood, which is encouraging buyers and, above all, investors, now targetting Annemasse and its surrounding area for its high rental potential," explains Sylvie Léger of the Citya Valp'Immo agency.
"Neighbourhoods around the station, Le Chablais, and the areas of Ambilly and Gaillard are the most sought-after, especially among local and Swiss investors in search of small rental investments near the future tramline, which will bring satisfactory yields, as demand for rentals is high in Annemasse," adds Angélique Tricaud, manageress of the AT Immobilier agency she opened in September, 2015. "With a budget of 90,000 €, you can set your sights on apartments with one main room, to renovate. Impeccable examples can fetch more than 130,000 €." After an upturn in 2016, prices now seem to be holding steady. People working locally are actively looking for 2- and 3-bedroomed apartments ranging from 200,000 to 300,000 €, while first-time buyers focus on 1-bedroomed apartments which can be found for around 200,000 € in new or very recent residences. "As for properties in the 500,000-600,000 € price bracket, they are currently suffering from a lack of buyers."
You will also like