Annecy, between lake and mountains
The main town in the département of Haute-Savoie, Annecy lies on the banks of the lake that bears its name, not far from the Aravis mountain chain, 50 km north of Chambéry and 40 km south of Geneva.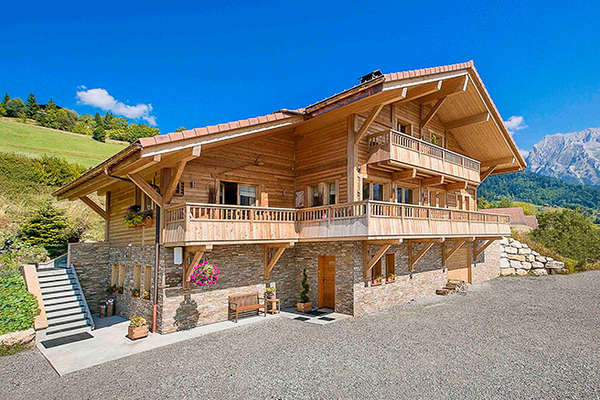 Ideally located in Manigod, this chalet built in 2010 is comprised of 2 apartments (one of 185 m2, the second of 70 m2) and a wellness centre of 160 m2, in grounds of1,000 m2 facing due south. 1.680.000 €. Luxalpes (06 82 65 77 47).
"2017 has so far been very lively," says Agnès Dussaud, sales manager at Accort Immobilier, based in Annecy for over two decades. Specializing in transactions and rental management, the agency covers an area within a radius of 30 km around Annecy, especially on the shores of the lake, to the north towards Geneva, and south towards Aix-les-Bains. "Annecy is a highly sought-after address. Small surface areas are of particular interest to our investor clients who then entrust us with rental management of their acquisition, while larger apartments are in strong demand from people working locally. Our latest sales involved year-round homes for buyers aged on average from 25 to 45." Among her recent sales, Agnès Dussaud mentions a studio acquired by a rental investor for 132,000 €, a 1-bedroomed apartment in the Old Town priced at 191,000 €, and a 2-bedroomed apartment in the "Courier" neighbourhood, priced at 240,000 €. In Annecy intra-muros, offerings of houses are limited. Some buyers turn their attention to neighbouring markets where properties can be found at prices 50% lower than those posted in Annecy itself, depending on the area. By way of example, a detached villa in Le Bout du Lac d'Annecy, on the commune of Doussard, sold for 299,000 €.
Based in Thônes and La Clusaz, the Luxalpes agencies directed by Nicolas Kachelhoffer propose a wide choice of properties in La Clusaz, Le Bornand, La Giettaz, Le Reposoir, Saint-Jean-de-Sixt, Villards sur Thônes, Thônes, Serraval, Le Bouchet-Mont-Charvin, Manigod, Les Clefs, La Balme de Thuy, Alex, and Dingy-Saint-Clair. "Depending on the commune, transactions balance out evenly between main residences for the locally employed and retirees, and holiday homes in resorts for numerous French, Belgian, Swiss and ex-pat clients," explains Nicolas Kachelhoffer. Known as the capital of Les Aravis, Thônes lies at the crossroads between the valleys of Le Fier and Le Nom, midway between Annecy and the resorts of La Clusaz and Le Grand-Bornand. "Here, most of our sales consist of main residences. The most frequent budgets revolve around 300,000 €, allowing the buyer to set his sights on a 2- or 3-bedroomed apartment, or a small house. Overall, homes in Thônes cost about 3,500 € per sq.m. A few new high-end properties are on offer at higher prices, such as one small residence comprised of 10 apartments offering high-quality appointments, proposed from 4,000 to 4,200 € per sq.m." In the agency in La Clusaz, clients are most often endowed with budgets of around 700,000 €, bringing a 3-bedroomed apartment of approx. 85 m2 or a small chalet. "Our market has become relatively well-balanced in terms of supply and demand, and prices now tend to be more stable," adds Nicolas Kachelhoffer.
You will also like