Annecy, an active market
Between lake and mountains, the "Pearl of the Alps" stands at the edge of the lake which bears its name, 50 km north of Chambéry and 40 km south of Geneva. It is home to over 50,000 residents, and almost 210,000 within its greater urban area.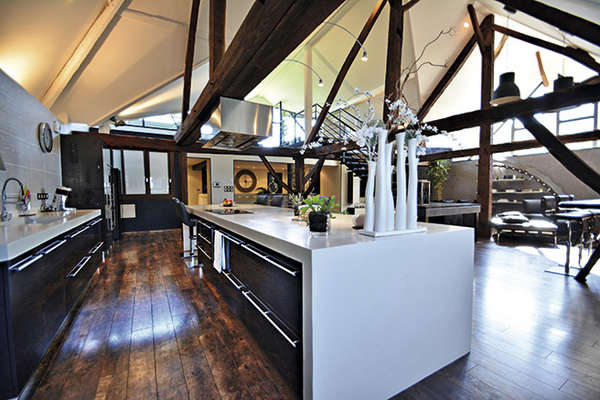 This spacious loft offering a usable surface area of 500 m2 (living space 380 m2) benefits from a terrace of 90 m2 with a pool and sheltered outdoor kitchen. 1.490.000 €. Agence La Demeure (04 50 01 14 37.)
Annecy lies at the heart of major roads heading for Mont-Blanc, Turin, Milan, Lyon, Chamonix and, most importantly, Geneva. Recent inauguration of the A41 has provided fast access to the business capital of Switzerland, resulting in even more interest on the part of "frontaliers" for Annecy and its surrounding area.
"A high percentage of our buyers is comprised of people working across the border," says Maxence Bouvier of the Agence La Demeure, specializing in sales of mid- and upper-end properties in the basins around Annecy and Geneva, and also offering a few unusual or prestige residences all over France. "They are particularly drawn to Annecy North, from which they can reach Geneva in about 20 minutes. Often benefiting from financial means above the average, these specific clients appreciate villas in the up-market area of Annecy North offering views of the lake and mountains, 4 or 5 bedrooms, and grounds with swimming pools. Such properties currently fetch from 900,000 to 1 million euros." The market for new-builds is also doing well. The Agence La Demeure markets fully rehabilitated residences at prices from 5,000 to 6,000 € per sqm, high-end apartments from 4,000 to 5,000 € per sqm. Properties offering direct views of the lake are proposed from 8,000 to 10,000 € per sqm.
"2016 ended at a very brisk pace," says Agnès Dussaud, sales manager with the Accort Immobilier agency based in Annecy for over 20 years. Specializing in both sales and rental management, it covers an area within a radius of 30 km around the town, particularly on the shores of the lake, heading north towards Geneva, and south towards Aix-les-Bains. "Annecy is still a highly sought-after address. Small surface areas are in strong demand from our investor clients, who then entrust us with rental management of their acquisitions, while larger apartments are highly-prized by people working locally. Our most recent sales involved main homes for clients aged 25 to 45 on average." Agnès Dussaud mentions, for example, a studio priced at 132,000 €, a 1-bedroomed apartment to renovate in the Old Town, at 190,000 €, and a 2-bedroomed apartment in the "Golden Triangle" which sold for 270,000 €. In Annecy intra muros, houses are thin in the ground. Some buyers turn their attention to neighbouring areas, where properties can be found at less than half the price of those in Annecy itself, depending on their location. As evidenced by a town house with a pleasant garden, 20 km from the centre. The downside ? The traffic, often very heavy at the northern end of the lake.
You will also like