Anglet, increasingly attractive
In 2019, the future electric "tram'bus" will enable residents of Anglet to reach the centre of Biarritz easily and directly. A sizable argument boosting the appeal of this commune, already very enticing with its shoreline 4.5 km long, 11 beaches and a golf-course.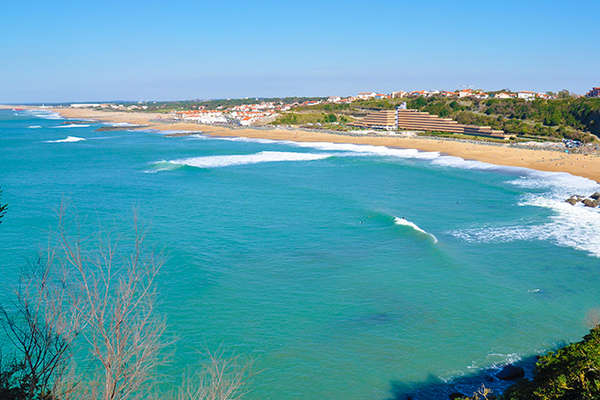 Next door to Biarritz, Anglet is a vast and airy commune stretching out along a shoreline 4.5 km long.
"In the space of two years, sales prices in Anglet have risen by about 10 %," says Alexis Chatelot of the Immo Conseils agency. "Our clientele is split into two distinct profiles. Buyers who see Anglet as a fall-back market for Biarritz where offerings have become too scarce and prices too high, and those comprising the second category who choose Anglet for itself, prefering the quality lifestyle it offers compared to its neighbour, Bayonne. We thus have all kinds of clients, from first-time buyers to those seeking holiday homes and, quite recently, rental investors." According to Alexis Chatelot, the average price for apartments in Anglet ranges from 2,500 € per sq. metre for properties to renovate, to 4,500 € for those offering quality appointments. "Even so, there are micro-markets such as the highly-prized neighbourhood of Les Cinq Cantons, and especially the Chambre d'Amour neighbourhood right on the beach. This address is something of a bubble in which prices can double." The choice is currently vast in the case of apartments, especially as a few new developments have added to the stock. "The municipality gives priority to small developments of quality that blend harmoniously into the setting." As an example of these new opportunities, Alexis Chatelot mentions a loft of 134 m2 extended by a spacious terrace of 47 m2. In a high-end residence a short walk to biking paths leading to the beaches, it is on offer at 694,000 €. On the other hand, would-be buyers of houses do not have the last word. Properties of quality are thin on the ground, and one needs a budget from 600,000 to 800,000 € to set one's sights on a house of over 150 m2 with a good-sized garden. "Those hoping to treat themselves to this type of property with 500,000 € find themselves confronted by houses requiring extensive renovation, or locations in areas suffering from nuisances. The market is clearly becoming tighter and, if a property is seen as suitable, buyers now have to act immediately."
Based in the neighbourhood of Les Halles in Biarritz and also in Anglet, Chiberta Immobilier has specialized in sales, long-term and seasonal rentals since 1998. "In Anglet, the market is very lively and prices have now stabilized. Mostly French, our clients are looking for holiday homes offering the potential to become their main residences when they retire," explains Martine Velle Limonaire, manageress of this agency specializing in the Chiberta neighbourhood, as its name suggests. On the commune of Anglet, and part of the agglomeration of Biarritz - whose centre can be reached by bus every 15 minutes in just 7 minutes -, the Chiberta neighbourhood offers typically Landaise living conditions, enjoying a permanent holiday atmosphere. Between its legendary golf-course, its beaches and pinewoods, it is bordered by the forest of La Pignada, offering hiking trails, biking paths, and an "accrobranche" adventure circuit. Chiberta is also near the shopping zones of Les Cinq Cantons and the up-market neighbourhood of La Chambre d'Amour. "In this high-end area, the most widely sought-after properties are villas and 2- and 3-bedroomed apartments at prices ranging from 800,000 to 2 million euros," says Martine Velle Limonaire, adding that clients here are also faced by limited offerings.
You will also like