Anglet, a multifaceted market
Between Bayonne and Biarritz, Anglet is a leafy commune steeped in both Basque and Gascon culture. Its beaches, thalassotherapy centre, golf-course and biking trails along the forest all play their part in this highly-prized living environment.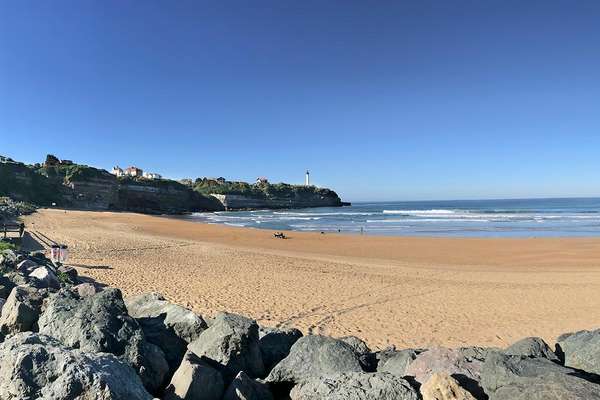 The last stretch of the Côte d'Argent, La Chambre d'Amour ends in Anglet. Its romantic name comes from a tale of lovers caught by surprise by the tide in the 17th century.
Like the rest of the Basque Coast, the commune of Anglet is experiencing strong demand from buyers, though it is focused here on a precise type of property and clearly identified areas. Anglet's advantage is that it can still offer neighbourhoods where prices remain affordable for a larger number of people, sometimes with good opportunities waiting to be seized.
JMS International Properties has been active on the Basque Coast real-estate market for 15 years, and under the Arthurimmo.com brand license for almost 4 years from its agency on Avenue de Verdun in Biarritz. This year, it will be joined by new offices on Place Clémenceau in Biarritz under the "Prestige by Arthurimmo" label. "We provide our clients with our expertise," explain agency managers Johanne and Pierre Mariette. "Our status as real estate experts is approved by the CNE ("Centre National de l'Expertise") and we are regularly appointed to carry out property appraisals at market value in the context of successions, separations, bank loans or asset valuation. At the same time, we act as estate agents for sales and rentals, and also offer a rental management service. Our five employees cover the Basque Country and the southern part of the Landes. Anglet has built a good ranking in our property portfolio, for both houses and apartments. It should not be seen as a fallback solution, its size and its location between Bayonne and Biarritz make it an essential address on our market." Some areas, including 5 Cantons, Chambre d'Amour and Chiberta, exercise strong appeal and form the core of demand, automatically leading to a rise in prices per sq. metre. However, other neighbourhoods in the town that are less in demand still allow buyers to find opportunities at affordable prices. According to Johanne and Pierre Mariette, depending on the size of the properties, their condition and outdoor areas, small houses can still be found from 400,000 €, though they are quite rare. "Demand is centered on properties in the 550,000 to 750,000 € price bracket for houses in good condition with small gardens. Finally, in the most popular neighbourhoods, it is not rare to find properties on offer at prices above 1 M €."
Specializing in luxury and prestige properties, Serge Pilke, manager of the Terres et Océan agencies in Biarritz and Hossegor, describes good momentum at the top end of the market in Anglet, despite supply that is still outstripped by sustained demand. "Our clients appreciate the Chiberta neighbourhood, ideally located between the prestigious golf-course and the beaches. When a house is posted there at a fair price, it sells quickly," explains Serge Pilke, mentioning as an example of exceptional properties he currently has for sale, a Californian-style villa with 4 bedrooms, a large living-room, a contemporary kitchen, and a beautiful pool with pool-house in the grounds. Within walking or biking distance from the beach and golf-course, this villa offering the full array of high-end amenities required by a year-round residence is up for sale at around 1.7 million euros. Also in Chiberta, another villa of about 200 m2 on two floors, completed by a garage, swimming pool and independent apartment, is ideal for entertaining family and friends during the holidays, or as a rental possibility. In a quiet sought-after cul-de-sac a stone's throw from the beaches, it is on offer between 1 and 1.5 million euros.
You will also like