Anglet, a buoyant market
Marked by both Basque and Gascon culture, Anglet lies between Bayonne and Biarritz. Vast, airy, green and flowery, Anglet stretches out over a coastline 4.5 km long, facing the ocean.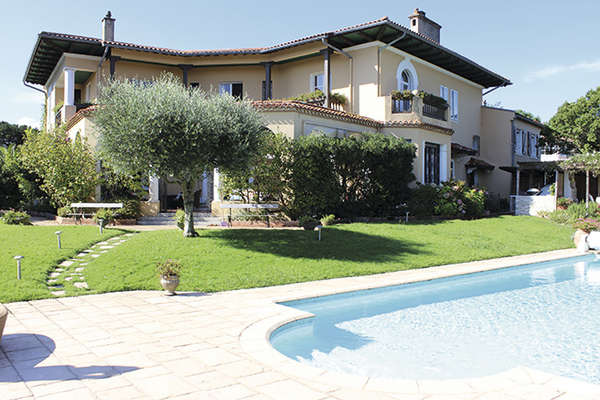 On the outskirts of the golf-course, 400 metres from the beaches, this luxury villa built in 1925 by architect William Marcel offers living space of 450 m2 in manicured grounds of 2,988 m2. 2.625.000 €. Terres et Océan (06 61 17 69 41).
With its eleven beaches, thalassotherapy centre, biking paths, golf-course and forest, Anglet offers tourists lots of assets. Exercising a strong power of attraction, this commune with almost 38,000 residents offers diverse accommodation ranging from substantial villas to a wide choice of select new apartments.
"We are currently marketing eight developments in Anglet," says Séverine Traille of the Cabinet Valorial, specializing among other things in tax advice and optimization, real-estate investment strategies and tax benefits. "We select residences on a human scale in strategic locations, offering high-quality appointments. A good number of our clients choose Anglet for their holiday homes and personal enjoyment with tax advantages. They aim to rent out their properties over several years, ideally 1- or 2-bedroomed apartments, then take them off the rental market to enjoy them to the full. Location is therefore doubly important, to find tenants easily, and then to benefit personally from a pleasant life-style." The area between Les 5 Cantons and La Chambre d'Amour, within walking distance of the beach and golf-course, is one of the most highly-prized. New apartments here are marketed at around 7,000 € per sq.m when they benefit from generous terraces, and come with a cellar and parking place. In other parts of the commune, new apartments start from 4,500 € per sq.m. "Our clients are mostly French, from Bordeaux and Paris, with others from the PACA region," explains Séverine Traille. "They are all aged from 45 to 70. The most desirable properties such as penthouses are sought after by a clientele of young retirees looking for vast apartments with contemporary appointments."
Specializing in high-end and prestige properties, Serge Pilke, manager of the Terres et Océan agencies in Biarritz and Hossegor, confirms the buoyancy now characterizing the market, even though offerings are rather scarce for high-class villas. "Our clients are fond of the Chiberta neighbourhood, ideally located between the prestigious golf-course and the beaches. Prices here have seen a marked rise over the past few years, and some sellers still over-estimate their properties. However, when a house is offered for sale at the going rate, it sells very quickly." As examples of outstanding properties, Serge Pilke mentions a superb Hispanic-style villa of 450 m2 built by renowned architect William Marcel in 1925, in grounds of 2,988 m2 with a pool, terraces, patio... Presented with an exclusive mandate at 2,625,000 €, it is comprised of large reception rooms, a vast kitchen, a master suite and 5 more bedrooms, plus a self-contained apartment. A terraced villa of 140 m2 in contemporary style, beautifully located a stone's throw from the beaches and golf-course, offers 4 bedrooms with their own bath or shower rooms, and unimpeded views of the ocean from the top-floor terrace. A heated pool and its pool-house complete the amenities of this rare property, up for sale at 1,386,000 €.
You will also like