Albi and Gaillac, a quiet life
A thousand years old, these two towns have kept pace with modern times without turning their backs on their glorious past. Albi and Gaillac offer their inhabitants proximity to Toulouse and an appreciable quality of life.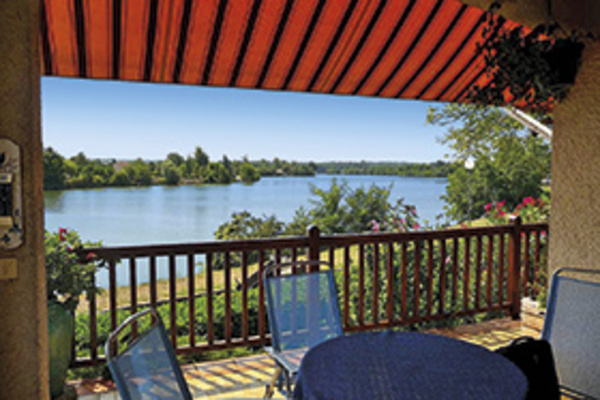 Near Gaillac, this house with 4/5 main rooms and a semi-buried basement enjoys a pleasant view of the lake and nestles in a landscaped garden of 400 m2. 242.000 €. Imogroup (05 63 42 13 80).
Almost two years ago, Albi was listed by Unesco as one of the 911 outstanding sites forming part of mankind's natural and cultural heritage. Nicknamed the "red city" because of the colour of its bricks and historic centre, the town prides itself on having an impressive fortified cathedral, Saint-Cécile, and the Palais de la Berbie, formerly occupied by archbishops. Toulouse-Lautrec was born here and a museum hosts one of the world's largest collections of works by the post-Impressionist artist. Highly sought-after, the classified centre is made up of town houses and small apartments, mostly offering one, two or three main rooms. Houses range from 240,000 to 350,000 €, apartments cost from 1,800 to 2,000 €/m2. Any restoration is submitted for the approval of the "Bâtiments de France", ensuring that the centre preserves its authenticity and avoiding all kinds of inappropriate alterations. Retirees who sell their homes in the suburbs to move back to town regret that the centre of Albi cannot propose spacious apartments with outdoor areas and garages. In view of the scarcity of availabilities, they fall back on single-storey houses on the outskirts. Town houses are popular among 40 year-old parents whose children are old enough to be more or less autonomous. Schools and leisure facilities are close on hand, allowing younger children a degree of independence. West of Albi, with a direct exit towards the motorway, the neighbourhood of La Maladrerie is highly-prized by the "Albigeois". Both basics and extras are to be found : schools, shops and an 18-hole golf-course. This large suburban area of Toulouse proposes "pavillons" and recent apartments. For a house of 110 to 170 m2 with gardens of 700 to 1,200 m2, one needs a budget of 200,000 to 280,000 €. Apartments are pegged from 1,700 to 1,800 €/m2. Residents here are families and employees transferred to the region, looking for convenience and shops within easy reach.
On the immediate outskirts of Albi, one finds Puygouzon. "It is to Albi what Neuilly is to Paris," explains Paul Albouze of Premium Immobilier. Its large houses of 150 to 250 m2 are popular among people mostly from outside the area, appreciative of this secure neighbourhood. In exchange for 300,000 to 500,000 €, buyers can enjoy a quiet life. In the western suburbs heading towards Gaillac, one can find "pavillons" priced from 170,000 € to 220,000 €. But the spirit of Albi is no longer evident, as residents here set off for work in the morning and come home in the evening. After its listing as part of Unesco's heritage and a prime-time documentary on a national TV channel, Albi saw its numbers of tourists rise by 30 % in just one year. Both locals and tourists acclaim its pleasant mild climate, real gastronomy, superb scenery and the closeness of Toulouse (reached in 45 minutes) without its disadvantages. Aware of the stakes to be played out in the future, the municipality is developing the town's cultural offerings ; a theatre with 1,000 seats, eight cinemas, a restaurant with a view of the Cathédrale Sainte-Cécile and 380 underground parking places are to be delivered by late 2013/early 2014.
Between Toulouse and Albi, Gaillac and its 13,164 inhabitants have experienced considerable growith in terms of both its economy and population. Long known for its production of pastels, the town is laid out around its old centre, with terraced houses mostly deprived of garages or outdoor areas. Depending on their condition, their price per sq. metre ranges from 500 to 1,000 € : it's virtually impossible to find anything under 40,000 €. Investors show an interest, aware that rentals are in demand (400 €/month on average for 100 m2). On the first ring around town, one finds houses with gardens, built in the 1970's. Often terraced and on two floors (sometimes with attics), they can be criticized for inadequate insulation, a lack of double glazing, and are in need of modernization. Recently, one example of 120 m2 sold for 130,000 € and usually, for this type of property, one can expect to pay between 800 and 1,000 €/m2. The second ring is characterized by 2-storey houses built in the 1960's with garages on the ground floor. Sound construction, generous surface areas, high ceilings and balconies..., all assets which, however, do not suffice to counteract the disfavour into which they have fallen. Currently a 4-room home of 130 m2 over a garage of 70 m2 with 2 bedrooms of 70 m2 also on the ground floor, in grounds of 3,000 m2, is up for sale at 200,000 €. In this same area, 1-storey houses built in the 1990's offering modern appointments are priced from 220,000 to 240,000 € for living space of 150 m2. Young retirees from outside the area wanting to be closer to their families rub shoulders with young families taking advantage of schools, shops and medical services.
Until 2006, Gaillac saw a flurry of developments designed to benefit from tax advantage schemes. They are shared out between groups of individual houses and small apartment buildings on three floors. Today, owners have the right to resell and a new market has come into being over the past two or three years. "Contrary to the current trend, the first investors were not locally based," says Brigitte Barthe of the Agence Barthe. In 2012, prices have dropped and buyers pay on average 1,400 €/m2. Is this a good time to invest ? "Yes," answers Mathilde Espinasse of the Imogroup agency. "In the future, the situation is not likely to change. Between relatively low interest rates, prices which have fallen and negotiations with sellers still possible, this is the time to become a home-owner." What about the crisis ? According to our professionals, France is a far cry from the catastrophic scenarios being played out by its European neighbours. Albi and Gaillac benefit from a well-preserved environment and, whatever happens, real estate is considered, and always will be, as a safe haven.
You will also like