Aix-les-Bains, the elegant Riviera of the Alps
On the banks of Lake Bourget, Aix-les-Bains is a flagship tourist destination focusing on thermal spas and well-being. Nestling at the foot of Mount Revard, at the gateway to the Regional Nature Park of the Massif des Bauges, this commune with almost 30,000 residents offers an outstanding natural environment.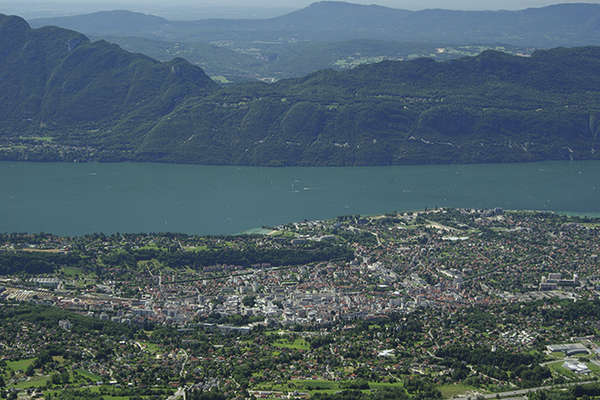 Aix-les-Bains on Lake Bourget is the largest soft-water site among the 36 resorts in France bearing the "Station Nautique" label.
Benefiting from an advantageous geographical location between Lyon and Geneva, Aix-les-Bains is a 3-hour ride to Paris from its train station in the town centre. On both town and lake sides, Aix-les-Bains offers a casual chic life-style. Once an elegant place to stay in the "Belle Epoque", Aix-les-Bains has preserved a remarkable architectural legacy characterizing the beauty of its centre. Here, palatial 19th-C. facades blend harmoniously with the splendour of the Casino Grand Cercle, inaugurated by King Victor Emmanuel II of Savoy in 1850.
"The property market is currently enjoying renewed activity," says Florent Jeantet, manager of the 360° Immobilier agency opened in Aix-les-Bains in 2006. "The transactions we handle involve all kinds of properties whether new, old or recent. Our clientele is comprised of retirees from various regions all over France, but also people working locally, looking for their main homes. The most frequent requirement is an apartment in the town centre with a terrace and garage, though buyers are confronted by limited offerings. This type of property costs from 3,000 to 3,200 € per sq.m." Investors are also actively looking for properties in Aix-les-Bains, aiming for an ideal pied-à-terre in the centre which can easily be rented out for short or long periods. Studios can be found from 70,000 €.
Young members of the working population hoping to become home-owners happily set their sights on houses in the surrounding areas, on communes posting more affordable prices. The area of La Chautagne at the north-western tip of the département, about 20 minutes from the centre of Aix-les-Bains, is an attractive market. "Our first-time buyers with budgets of around 300,000 € often fall back on the market in La Chautagne, where some soundly-built homes can be found from 200,000 €," say Carole Bergeron and Ludivine Vincent of the Immobilière de Savoie agency in Aix-les-Bains. "On certain communes of La Chautagne such as Chindrieux, it is even possible to find village houses to renovate for 100,000 €." By way of example, they mention a house of 78 m2 in need of refurbishment, with 5 main rooms, a vaulted cellar and an attic of 35 m2 suitable for conversion, up for sale at 95,000 €. In Aix-les-Bains, it is hard to find a charming family villa for less than 500,000 €. As illustrated by a substantial town house of 250 m2 with a pool and modern appointments, close to schools, currently on offer at 599,000 €.
You will also like