Aix-les-Bains, a town in the mountains
Between Chambéry and Annecy, a 3-hour ride on the TGV from Paris, Aix-les-Bains is one of France's best-known thermal spas. Home to almost 30,000 residents, it offers buyers persuasive arguments including a golf-course, hippodrome, two casinos, and the largest freshwater harbour in the country.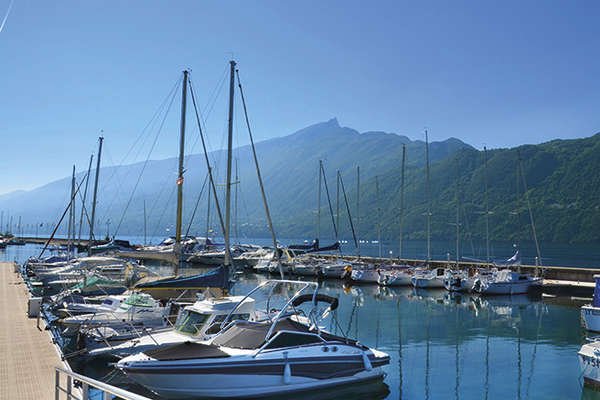 Aix-les-Bains boasts the largest freshwater harbour in France.
Also boasting a first-rate heritage featuring magnificent "Belle Epoque" buildings, Aix-les-Bains does not content itself with being just a thermal spa and tourist attraction. Undergoing considerable expansion, its agglomeration plays host to large firms such as Léon Grosse, Areva, Aixam and ABB Cellier.
"The market has clearly seen a recovery. The first half of 2016 has been very lively, with serious buyers keen to complete their plans," says Karine Garcia-Thomasset, manageress of the Atlas Immobilier agency in Aix-les-Bains for the past decade. Mainly consisting of the newly retired and employees transferred to the area, these buyers with budgets ranging from 350,000 to 450,000 € are looking for soundly-built houses, ideally located in prized residential neighbourhoods such as Chantemerle and Boncelin, or on the first level of hills. "These areas appeal due to their quiet surroundings, with some properties here offering plunging views of the lake." With a budget of 450,000 €, one can envisage a villa of 130 to 150 m2 with a garden of 800 to 1,000 m2. Views of the lake immediately justify higher prices. A few new developments are also meeting with success, especially as their prices easily compete with those of properties offered for re-sale. A 3-bedroomed terraced house of 90 m2 can be had from 280,000 €. What about apartments ? "In the centre, apartments are sought by a clientele mainly comprised of retirees looking for convenience. If they want a property benefiting from a terrace and parking place in a residence with a lift, they have to be patient. As soon as an apartment offering all these assets becomes available, it is snapped up very quickly." Overall, apartments in the centre are proposed at around 3,000 € per sq. metre, depending on their condition and address. High-class examples proposing refined appointments can climb to 5,000 € per sqm.
"Investors, first-time buyers, the locally employed... all comprise our current clientele," explains Florent Jeantet of 360° Immobilier, an agency also based in Aix-les-Bains for the past 10 years. "The market has indeed been very buoyant this year. While reflecting the appeal of each different neighbourhood, it is proving to be well-balanced, with the majority of the recent sales we have handled going through without any excessive bargaining, whatever the address. The level of stocks of available properties is also satisfactory. 3-bedroomed houses in Boncelin on the suburban hills, offering plunging views and small gardens of about 700 m2, can be found from 400,000 €." In the centre, investors are looking for small surface areas : one such apartment of 24 m2 with one main room and a parking place is up for sale at 72,000 €. A property market with sound and diverse offerings.
You will also like