Aix-en-Provence, the price of rarity
Aix-en-Provence, the price of rarity The old capital of Provence and its surrounding areas are as sought-after as ever, attracting an affluent clientele in search of a high-quality lifestyle and a sound long-term investment.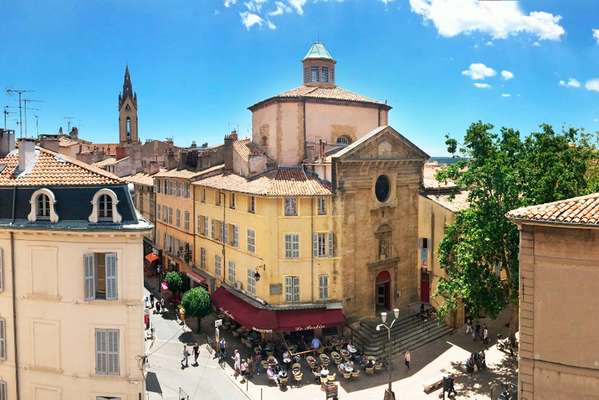 Recently sold, this renovated apartment of 80 m2 prolonged by a double terrace enjoys this view of the top end of Cours Mirabeau. Autour de 700.000 €. Goyet Imobilier (06 12 28 21 67)
Based for almost a decade in the Mazarin neighbourhood, the Barnes agency is preparing to move into prestigious new premises on Cours Mirabeau in the autumn of 2020. Covering an area within a radius of about 20 km around Aix-en-Provence, this agency specializing in high-end properties and homes of character offers a portfolio comprised of desirable houses and apartments priced from 800,000 to 5 million euros. "A budget of around 800,000 € now allows buyers to set their sights on a pretty house on a pleasant commune on the outskirts of Aix-en-Provence," says agency manager Guillaume Clément. He mentions, for example, a stone property of 260 m2 in Le Puy-Sainte-Réparade with a large annex, a pool and pool-house in 8,000 m2 of grounds. Renovated throughout and close to a road with very little traffic, it is up for sale at 775,000 €. "Our clients are mostly French, looking for pleasant second residences with potential to become their main homes when they retire. Others settle in the region due to professional transfers or major changes in their lives ; they are looking for family homes on peaceful communes around Aix-en-Provence such as Le Tholonet, Les Pinchinats, Puyricard, Éguilles, Célony... For second residences, most of the budgets we see range from 1 to 2.5 million euros." Relatively evenly-balanced, this high-end market is healthy, with very little bargaining witnessed over the past few months. "In the centre of Aix, however, prices continue to rise. It is not rare to see properties offered at around 9,000 € per sq.m in the historic Mazarin neighbourhood or on the Allées Provençales. Town houses are extremely rare : whenever one appears on the market, it is quickly snapped up." As evidenced by the sale within just three weeks of a charming residence of 200 m2, enjoying total peace and quiet in a garden of 700 m2 in the Saint-Jérôme neighbourhood. Within walking distance of the town centre, this property requiring renovation sold at a price between 1.1 and 1.2 million euros.
Recently inaugurated on the lovely old Place des Trois Ormeaux, Goyet Immobilier proposes an innovative global approach to Aix's property market, the fruit of its founders' experience : Amaury Goyet, expert in the art world in Aix for the past 20 years, and his wife, who runs a prestigious home decor store on Rue Paradis in Marseille with a design office for home interiors. "Thanks to our strong local network, we have offered from the start a portfolio of high-quality properties benefiting from sought-after appointments. Whether a small apartment serving as a pied-à-terre or a spacious and charming residence, we assist our clients with the same enthusiasm and the same attention to detail," says Amaury Goyet. Who had hardly opened his agency before orchestrating the sale of an apartment of 80 m2 prolonged by a double terrace enjoying a view of the top end of Cours Mirabeau. Fully renovated and decorated by the agency, this rare property in a fine old building delighted its new owner, who paid slightly over 700,000 €. On Aix's very tight property market, being able to count on an efficient network is a major asset for this new agency, extending its offerings to neighbouring communes, including Rognes and Éguilles, and envisaging the possibility of proposing its services in Marseille.
You will also like