Aix-en-Provence : highly coveted
Despite being the most expensive town in France on average, Aix-en-Provence draws a growing clientele of French buyers in search of residences with exclusive appointments. On the market for new properties, the arrival of new blocks of apartments is replenishing rare offerings.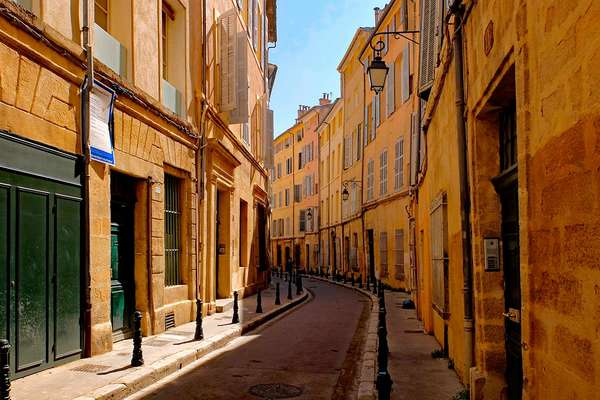 Specializing in charming and prestigious properties in Aix-en-Provence and its surrounding area, as well as the Luberon and Les Alpilles, Bec Capron Immobilier devotes itself exclusively to sales under the direction of Michel Capron. "In the centre of Aix, top-notch residences are mainly found in the historic neighbourhood or the area inside the ring road, with the Mazarin neighbourhood topping the list. Here you find numerous mansions built in the 18th century. Our clients are looking for apartments in these exclusive properties, or even private mansions for sale in their entirety, ideally benefiting from a garden, though these are extremely rare. In the Mazarin neighbourhood, we are currently offering two private mansions - one with a garden of about 50 m2, the second benefiting from renovation throughout, an elevator and indoor pool." For such ultra-exclusive properties, the starting price ranges from 10,000 to 11,000 € per sqm depending on appointments. "Contrary to general opinion, buyers of this type of property are not foreigners, but from Paris, Lille or Lyon. When their professional activity allows it, they choose to leave their cities to come live permanently in Aix." Michel Capron confirms that the pandemic has led to a massive influx of buyers to the town and its region. Determined to convert their financial assets into real estate, they dispose of comfortable budgets but are confronted by rare availabilities, high prices and limited margins for negotiation. Under these conditions, the expertise and the network placed at their disposal by the Bec Capron agency prove to be decisive.
Bonaparte Promotion has two agencies, in Marseille and Aix-en-Provence, managed by Vincent Pitaval. "We are one of the leaders in the marketing of new properties and are fortunate to work with all developers." A client advisor specializing in the market in Aix, Baptiste Gibin notes that the diversity of buyer profiles is creating high demand for all kinds of properties. "Rental investors mainly set their sights on apartments with 1 or 2 main rooms, first-time buyers and members of the working population aim for 2- or 3-bedroomed apartments, while those with 3 or 4 bedrooms appeal to buyers from other regions who have sold their homes and want to settle in Aix." Demand is mostly concentrated in neighbourhoods within walking distance of the centre. "Prices in these areas are around 400,000 € for a 2-bedroomed apartment in a high-end residence." Clearly outstripping supply, steady demand keeps the market tight and prices high. Aix is in fact the most expensive town on average in France (after Paris), and the health crisis has led to a strong desire to invest in real estate. "Buyers are aware of the advantages offered by new properties : reduced VAT and notary's fees, access to interest-free mortgages, possibilities of tax reductions, quality construction backed up by Low Energy Consumption standards, 10-year guarantees for buildings, 2-year guarantees covering the apartment's equipment... The list is very long." Notably being built west of the town, especially in the Sainte-Anne and Saint-Mitre neighbourhoods, these new developments are helping to restore a balance in the market between supply and demand.
You will also like